Never too Proud to Learn!
by Les Albjerg
(Caldwell, ID)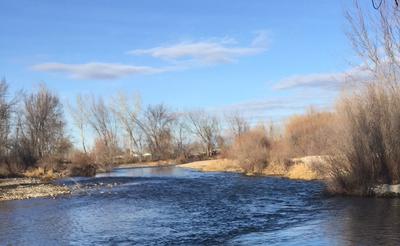 Boise River near work
I'd like to thank Chris for his story, "Longer Line Tenkara." I write this blog entry as his fishing reports don't lend themselves to dialogue, like the blog posts do.

Personally, I have done very very well casting a 9 meter line -- with my 8.1 meter rod! Upfront, I will confess, as a fixed line fisherman up until this week, I had never caught a fish on a line that was more than 3 feet longer than my rod.

It isn't so much that I bought totally into the "long rod-short line" philosophy, but I never fully recovered from a very poor first two outings with a very poor rod from a different vendor. The flex was all wrong for a longer line. As an experienced fly-fisherman, I was frustrated beyond words! I shortened the line to a little longer than the rod, and caught several fish, and became lazy with the idea, if I want to go longer, just get a longer rod!

I scoffed a little to myself at the videos I bought from "Tenkara In Focus" as they talked about longer lines. The Suntech Keiryu Sawanobori 63 allowed me to get that line out close to 14 meters!

I read and re-read Chris' article several times. Monday was the last calm warm day around here for awhile, so I had to get out and try the "Longer Line Tenkara." I headed down to the Boise River with the TenkaraBum 40, 9 meters of 3.5 level line, and 2 meters of tippet. One of my favorite flies is the Keeper Kebari, so it was time to see what the noise was all about! I wasn't planning on catching any fish. I was concerned about the techniques in the article.

The second cast and "Wham" a nice 10 inch brown! However, the first thought of the day on the first cast was, "WOW, I never knew that there was this much power hidden in the TenkaraBum 40!" It flexed predictably. I felt the pivot point clearly when I should begin the forward cast, and it dropped right where I was aiming! I caught one fish. I made about 30 casts with only 4 bad ones. I had two other fish on! I could sense the manipulation of the fly even with the longer line!

Again, thanks Chris! You have opened up a whole new chapter in my fishing! Thanks for quality rods too!
---
"The bitterness of poor quality remains long after the sweetness of low price is forgotten" - Benjamin Franklin
"Be sure in casting, that your fly fall first into the water, for if the line fall first, it scares or frightens the fish..." -
Col. Robert Venables 1662
As age slows my pace, I will become more like the heron.

---
Warning:
The hooks are sharp.
The coffee's hot.
The fish are slippery when wet.
Beware of the Dogma

---