My First Experience Making and Using Horsehair Line
by John Evans
(San Antonio, TX)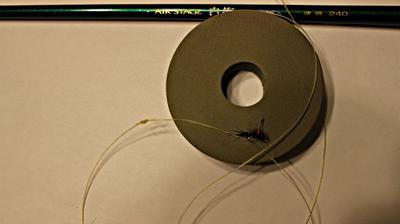 First Horsehair Line, Nissin AirStage 240, and Size 18 Higa's S.O.S. Nymph
My First Experience Making and Using Horsehair Line

Recently I ordered a couple of horsehair line kits from Chris Stewart at TenkaraBum, figuring I'd mess up at least one before I got it right. Fortunately, the process turned out to be easier than I imagined, and I'd like to encourage others to give it a try.

Normally, I fish high-quality furled lines, just because I like the way they cast, but I've always been curious about horsehair lines. How hard would they be to make, and would I like using them once I had them in hand? A few days after ordering from Chris, I had time to read the included instructions and give it a try. The first line I made was short, consisting of only three sections, for my Nissin AirStage 240. I fashioned the first "snood" on the tippet end with three strands of horsehair and the next two closer to the rod tip with four strands. This turned out to be about right for my first experience.

I rigged up the line with the AirStage, knotted on a size 18 Higa's S.O.S. nymph that I'd recently tied, and headed for my favorite micro-fishing hole.

The afternoon was fun and productive, and I was able to land about 30 smallish bluegills and yellow bellies (maybe 4" average). I used 7X tippet, the smallest I had, and never broke the horsehair once. Plus, the horsehair line landed like a soft whisper. After the line was wet, it had virtually no memory. It didn't seem to spook the fish, plus it had a nice, springy live action that was a real pleasure to cast.

Are there any advantages to horsehair lines? It's too early for me to say, but one point that comes to mind is that my casting, fishing, and landing technique improved in one afternoon. I was concentrating so hard on protecting the home-made line, that it made me careful with overhead brush, setting the hook, and playing the bluegills. That can't be a bad thing! Plus, it's just a lot of fun to land any fish on a line that you have made.

I'd like to mention one point in passing that may encourage more folks to tie their own flies and fashion their own lines. I wrestle with a familial tremor in my hands, which makes fine motor skills a bit of a challenge. If I can tie a horsehair line and simple nymphs that will catch fish, I'm sure that just about anyone can. You know how it is; a little patience and perseverance pay off. Just stay after it, and you'll get there.

---
"The bitterness of poor quality remains long after the sweetness of low price is forgotten" - Benjamin Franklin
"Be sure in casting, that your fly fall first into the water, for if the line fall first, it scares or frightens the fish..." -
Col. Robert Venables 1662
As age slows my pace, I will become more like the heron.

---
Warning:
The hooks are sharp.
The coffee's hot.
The fish are slippery when wet.
Beware of the Dogma

---