---
Please note: I will be away the first week of June. If you think you might want something then please order soon so I can ship it before I go.
---
Buttons that offer a choice of size, color, etc. show the stocks condition for top choice only! Make your choice to see if the item is in stock.

---
Mummy Worms Work!!
by Martin
(Mustang, OK)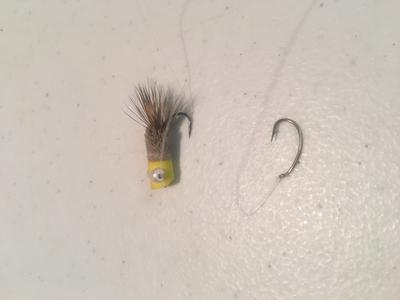 I had purchased four different colors of the Mummy Worms (natural, pink, red and brown) about a month ago and finally had a chance to test them this past Sunday on a local pond. I used my wife's Kurenai HM33R with a floating line, a creature deer hair indicator and a Daiichi 1120 size 12 on a hook dropper about 18" long. (see picture attached) After catching over 2 dozen bluegill I learned a valuable lesson. Retie the hook after about every 12 fish or so. I lost my hook on about bluegill number 27. All the colors of the Mummy Worms I have worked. I was able to catch about a one-to-one ratio of worm to fish. It would be a great bait to use introducing a child to fish using tenkara methods. Thanks Chris for carrying the worms.
---
"The bitterness of poor quality remains long after the sweetness of low price is forgotten" – Benjamin Franklin
"Study to be quiet." - Izaak Walton 1653

"Be sure in casting, that your fly fall first into the water, for if the line fall first, it scares or frightens the fish..." Col. Robert Venables 1662
As age slows my pace, I will become more like the heron.

---
Warning:
The hooks are sharp.
The coffee's hot.
The fish are slippery when wet.
Beware of the Dogma

---