Mountain Lake Fishing with Tenkara, Part 2
by Hans S
(Montana)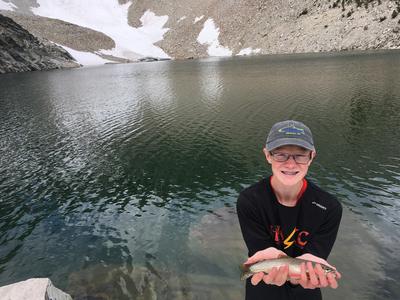 A nice fish from the first lake of the day.
After fishing the first two lakes of our trip and catching brookies and goldens, Will, Lukas, and I awoke early and climbed a scree field that narrowed to a perilous chute at the top. We made it onto the divide and started hiking along. It was cloudy, maybe 50 degrees, and very windy. We were walking above cornices of snow on the cliffy Montana side of the divide.

Finally, we found our ridge that we would take to the next lake, which was glistening below at 9200 feet. After a slightly hairy climb down, we sat at the lakeshore. We ate a quick, hot, morale-building lunch of Ramen - the salt seemed to raise our spirits as much as our blood pressure. We soon observed some fish, and strung up our rods (Iwana, Wetfly 8', and Will's 5 weight). Soon, we were into gorgeous fish, ranging from 8" to 14". They were all brilliant shades of yellow, orange, and red, obviously close off the spawn. Some were West Slopes, others Yellowstones, and some that were certainly hybrids. Fish were hitting a small olive tunghead jig bugger, a purple haze, and a black bugger. These are the fish in the first 2 pictures.

Finally, we decided to head to the lower lake (9000') where we would camp. We got there, set up a little bit of camp, and started fishing - this lake was reputed to have very fine cutts, and fine they were. They were mostly West Slopes, with 1 or 2 Yellowstones, but here is the kicker - every fish was bigger than 11", with most around 13"! I kid thee not! They were fat enough that you couldn't get a hand around them, and they were richly colored, dark-jawed with brilliant red bellies. They were smashing the bugger - until I lost it. They were still happy to hit a sparse muddler, and dry flies too.

It started to rain, so we took refuge. It soon passed, so we spent some time finishing setting up tents. We ate dinner and started a fire, and then continued to fish. I ended up catching 26 big fish here! when we went to bed, we were all happy anglers.

The trip wasn't over yet...
---
"The bitterness of poor quality remains long after the sweetness of low price is forgotten" - Benjamin Franklin
"Be sure in casting, that your fly fall first into the water, for if the line fall first, it scares or frightens the fish..." -
Col. Robert Venables 1662
As age slows my pace, I will become more like the heron.

---
Warning:
The hooks are sharp.
The coffee's hot.
The fish are slippery when wet.
Beware of the Dogma

---