Micro Fishing Tippet Connectors
Micro fishing tippet connectors allow you to quickly and easily attach a snelled tanago hook to your main line.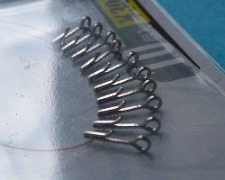 The connector has an eye to tie it to your main line. The other end of the connector is essentially a hook with no gape. There are two ways to attach a snelled tanago hook to the Tippet Connector.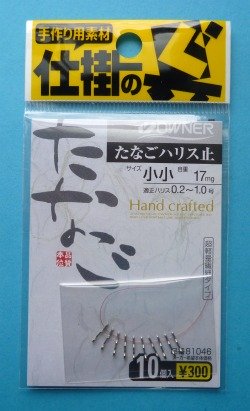 The simple way: If you are using a tanago hook that comes with a  loop in the end of the snell, such as the Gamakatsu Ultimate or Owner Migen, just slide the loop into the "hook" part of the tippet Connector.
The complex way: You slide the red snell (assuming an Owner snelled tanago hook) into the hook portion of the tippet connector, wrap it around once or twice and slide it in again. It won't slip.
However, if you have snelled the hook yourself with fly fishing tippet material, this procedure will not hold. Tippet material is harder and slicker than the red material that comes with the snelled Owner hooks. If you snell the tanago hooks yourself, tie a loop in the end of the snell and use the simple way.

Owner Microfishing Tippet Connectors - $4.50 (package of 10)
---
Shipping
Domestic shipping is via USPS Ground Advantage. Rates are $4.00 for packages that weigh up to 4 ounces and $6.00 for packages that weigh over 4 ounces. The charge is added to your order automatically.
Please note: All packages are shipped via USPS. If you have a PO Box, please list ONLY the PO Box in your address, not the PO Box and your street address.
The charge for international shipping depends on the destination country, the weight of the package, the overall length of the package and the value of the package.
International shipments

International purchases may be subject to import duties and taxes. I cannot keep track of all import regulations in all countries written in all languages. Understanding and paying import duties and taxes is the responsibility of the buyer.
TenkaraBum.com no longer ships to the EU, the UK or Russia.

TenkaraBum Home > Microfishing Gear > Microfishing Tippet Connectors

---
"The bitterness of poor quality remains long after the sweetness of low price is forgotten" - Benjamin Franklin
"Be sure in casting, that your fly fall first into the water, for if the line fall first, it scares or frightens the fish..." -
Col. Robert Venables 1662
As age slows my pace, I will become more like the heron.

---
Warning:
The hooks are sharp.
The coffee's hot.
The fish are slippery when wet.
Beware of the Dogma

---