Covid-19 Announcement
Some shipments are still delayed. If you are planning a trip, please order well in advance.
---
Micro Fishing Tippet Connectors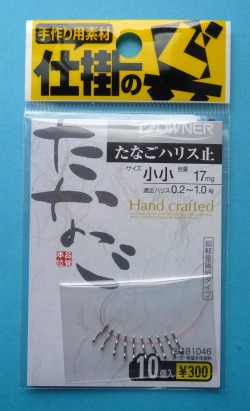 Micro fishing tippet connectors allow you to quickly and easily attach a snelled tanago hook to your main line. No knots or loop to loops are required. I learned about them from the Micro Fishing Kit because it uses one. It makes rigging or re-rigging much easier than messing around trying to tie a knot in a 1 lb test line (even if it is red so you can see it).
The connector has an eye to tie it to your main line. The other end of the connector is essentially a hook with no gape. You slide the snell from the tanago hook into it, wrap it around once and slide it in again. (There is an illustration showing how on the back of the package.)
It doesn't slip. I don't know if it significantly weakens the tippet, but the snelling on the tanago hooks is about 1 lb test to begin with, so great strength is not its primary attribute.
Please note: the tippet connectors are specifically designed for use with snelled tanago hooks. If you use them to connect regular tippet to a tenkara line, it will not hold. I suspect the material used in the snell of the tanago hooks is softer and not nearly so slick.
Besides, as I have mentioned before, I think one should give the micros a fighting chance. If there is no possibility that anything you might hook could break your line, it takes a bit of the uncertainty and a lot of the heart-in-your-throat adrenaline out of the whole process.
Now you might snicker at the idea of heart-in-the-throat adrenaline while fishing for minnows, but when atenkley hooked an 11 or 12 inch channel cat while fishing for minnows, I will bet you his heart was in his throat! (And yes, he landed it with his 6'6" Soyokaze.)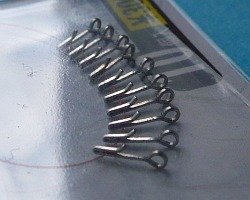 Owner Microfishing Tippet Connectors - $4.50 (package of 10)
---
Shipping
Domestic shipping is $4, via USPS First Class Mail (unless ordered with an item that must go via Priority Mail, and which has a higher shipping charge). The charge is added to your order automatically.
Please note: All packages are shipped via USPS. If you have a PO Box, please list ONLY the PO Box in your address, not the PO Box and your street address.
If you live in an apartment, please put the apartment number on the same line in the order form as the your street address, for example
John Doe
123 Main St Apt 4
Yourtown, XX 12345
Just leave the second line blank! Please! It takes you more time to put something in it and it takes me more time to take it back out. If you need it for a business name, use it. Otherwise, please leave it blank. No dashes, no nothing.
The charge for international shipping depends on the destination country, the weight of the package, the overall length of the package and the value of the package.
International purchases may be subject to import duties and taxes. I cannot keep track of all import regulations in all countries written in all languages. Understanding and paying import duties and taxes are the responsibility of the buyer.
TenkaraBum Home > Microfishing Gear > Microfishing Tippet Connectors

---
"The bitterness of poor quality remains long after the sweetness of low price is forgotten" - Benjamin Franklin
"Be sure in casting, that your fly fall first into the water, for if the line fall first, it scares or frightens the fish..." -
Col. Robert Venables 1662
As age slows my pace, I will become more like the heron.

---
Warning:
The hooks are sharp.
The coffee's hot.
The fish are slippery when wet.
Beware of the Dogma

---