Maximizing Fishing Opportunities
by Les Albjerg
(Caldwell, ID)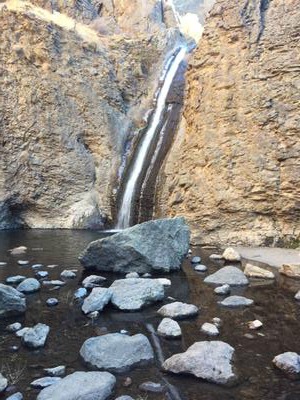 25 minutes from the house
I was bemoaning to Chris yesterday that I was on-call all weekend (I work in the medical field) and couldn't go fishing. His response was, "Being on call would be tough. If you get called, can you show up in waders?"

So after spending from 1 am to 4 am this morning at the hospital, I just ran out of energy on my projects around the house, so I looked and the summer issue of "Tenkara Angler" was available. If you don't know about this free magazine, it is very much worth reading. It was the first article that prompted this post.

I had to laugh a bit as the first article argued that Tenkara Anglers spending too much time reading about fishing rather than fishing since he was providing the fodder for my afternoon read.

I really enjoy reading "Tenkara Angler", however several things struck me as I read through. One argues for purism. I don't mind that so much, but how many of us have high gradient cold water streams close to us? I live in Idaho, one of the often envied States for trout fishing. However, I live at least 90 minutes from "Tenkara" waters. Two hours one way gets me into some really good water. I have tail water closer, but that isn't what the author was arguing for. Two years ago, I made a commitment to fish more. That won't happen if I limit myself to pure Tenkara. My closest cold water fishery is a huge series of cold water springs that have a few native rainbows, but since it is a park next to one of the largest State hatcheries, it is also a put and take fishery. Cold water, but not high gradient. It did encourage me to be more intentional on trying to get out and fish "Tenkara" more.

Andy Vinnes wrote an article on "The Driftless" area of Wisconsin. I enjoyed fishing there when I lived in Wisconsin. One of the most northern streams of The Driftless area was 200 feet out my front door. He argues that we ought to share with others where we have had good fishing. There are parts of his article I agree with, but not all people in the fishing community have the same ethics. The best Driftless fishing I enjoyed was because I had access through a farm to a stream that only 5 or 6 people fished and limited harvest was practiced. I found an awesome high desert stream that is very isolated. The first two times I fished it, I was catching native rainbows up to 18 inches. This is a very small stream about 20 yards wide with many nice pools and plunges. One of my Duck hunting buddies begged and begged that I share with him where it was. I had him swear to me that he would tell nobody else where it is. Last year,he not only told others, he posted pictures of 14-18 inch rainbows on a stringer on a fishing blog for Southwest Idaho and named the stream! A month ago, I went up there and caught several 4-6 inch rainbows, but saw no big fish as they had been harvested. So, I don't share all of my spots. This spot was found by doing a lot of research at Fish and Game talking to biologists and pouring over Google Earth. The good news is there is a place that is even better, and I am not telling.
I agree with him, that your hot spot might not be a secret, but if someone else thinks it is their hot spot, it will be treated with respect. Another hot spot I discovered that is unique has been fished by a guy for over 30 years without ever seeing another person. He was shocked when he found me fishing on "his stream." We had a friendly conversation. We have the same fishing ethic, and I agreed that I wouldn't tell anyone about the place or bring anyone. That was my plan all along.

So, in light of these two articles, I would encourage you all to get out and fish more. From a couple of Tenkara anglers, I have learned you don't have to take all day to have a great fishing experience. In all likelihood, it won't be a pristine high gradient stream. I have identified 9 places I can fish that are less than 20 minutes from my house. I now have a spinning setup and a tenkara setup. In less than 5 minutes I can be on the road and fishing in less than 20 minutes. Only two of these places have riffles. Four of them are high pressure areas, you are never alone. Five of the nine have places where very few people fish, but there are fish to be caught from those places. These are not postcard worthy places to fish, but they are fun places to fish. They give me the opportunity to fish at least once a week. With a very busy schedule this week, I got out twice.

The real benefit is when I do get to take that special fishing trip, my skills have been honed, my equipment has become an old friend ready for an exciting time. I have added additional fishing knowledge that adds confidence and competence.

So instead of dreaming about Henry's Fork or Silver Creek or the South Fork of the Salmon River, I head down to Indian Creek and catch 3-6 rainbows in a mowed City Park. And yes, I do have some special trips planned to special waters.

I would encourage you all go on Google Earth and explore. Give your local Fish and Game a call. Ask for the fish biologist for your area, they usually like to talk. Find some places to conveniently fish, and if you catch fish keep it to yourself. Plan some short sessions and enjoy them. Most of the time, I set the timer on my phone for 90 minutes and when the timer goes off, I am done fishing.

Hope you get out fishing more.



















---
"The bitterness of poor quality remains long after the sweetness of low price is forgotten" - Benjamin Franklin
"Be sure in casting, that your fly fall first into the water, for if the line fall first, it scares or frightens the fish..." -
Col. Robert Venables 1662
As age slows my pace, I will become more like the heron.

---
Warning:
The hooks are sharp.
The coffee's hot.
The fish are slippery when wet.
Beware of the Dogma

---