Matching the Hatch(ery)
by Les Albjerg
(Caldwell, Idaho)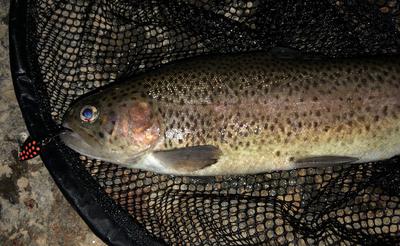 Nice Rainbow - Nighmare Spoon
I had to run to the grocery store for my wife. I begged an hour of fishing as it was a wonderful afternoon. I have wanted to revisit the Fly Rod Spoons for a long time. I headed over to the Wilson Springs ponds. Right now it is being planted every other week with 450 trout 8-10 inches. It is as close to "Area" fishing as we have where I live. The Daiwa Vega .4 gram spoons work well. I bought the "Horizon", "Brown Pellet", and "Green Pellet" to match the pellet food that the hatchery fish are fed. I took a tour last summer of the hatchery across the road from the fishing area, and was able to get my hands on some of the pellets!

I began the session with a silver .4 gram Daiwa Vega spoon. The fish would come and look at the spoon and then just swim away! After 3 tries, I thought it was time to see if "matching the hatch" applies to fly spoons. I put on the Green Pellet spoon and on the first cast with the TenkaraBum 40, I had a fish on! It was a nice 10 inch planter. The third cast and retrieve was slammed so hard by a trout that it broke me off. I then switched to the Brown Pellet. After 6 fish in 9 casts, I felt that I had proved that you can "match the pellet hatch!" I then put on the Horizon and caught two fish in 5 casts. I had to end the day trying my all time favorite and that is the Vega Nighmare pattern. I caught my biggest fish of the evening a nice 12 incher.

I was using a Cultiva Micro Snap Swivel. It makes changing spoons easy! I sure hope Chris gets the "out of stock" spoons back in soon, especially the Brown Pellet and Green Pellet. I believe color does matter! I had two guys who were fishing corn on a Carolina Rig come over and check out my fishing outfit and watched for about 10 minutes. They thought it was awesome, and the spoons were amazing. I gave them each a TenkaraBum business ard. It is great having a forgiving wife too, I fished for an extra half hour!







Return to Your Tenkara Stories.
---
"The bitterness of poor quality remains long after the sweetness of low price is forgotten" - Benjamin Franklin
"Be sure in casting, that your fly fall first into the water, for if the line fall first, it scares or frightens the fish..." -
Col. Robert Venables 1662
As age slows my pace, I will become more like the heron.

---
Warning:
The hooks are sharp.
The coffee's hot.
The fish are slippery when wet.
Beware of the Dogma

---