Making Full Use of a Trout Park
by Alan Luecke
(Kansas City, MO)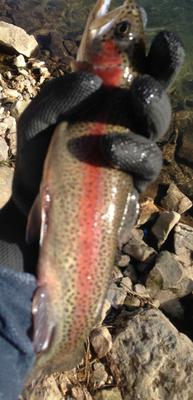 Winter Rainbow
The state of Missouri has five wonderful hatchery / trout fishing parks spread around the Ozarks. They are all fed by large cold springs. It's great to be within three hours of cold water trout year around in the middle of the country. But, these clean cool waters hold a lot more than trout.

I spent last Friday at the Roaring River Park near Cassville, Mo and had a wonderful day of fishing. Many of the trout had beautifully intense winter colors. But that was just the start.

My first fish of the day was the Ozark Sculpin in the post below. First fish of the year and first sculpin ever. A most auspicious start to the new season.

The sculpin was followed shortly by several duskystripe shiners. These are the dominant small fish in Roaring River. They're everywhere. Last summer I was catching nice three and four inch fish out of the rapids right alongside the trout (truth told usually instead of the trout).

At the lower end of the park a small falls drops into a large rocky plunge pool. This is my favorite spot. The pool holds lots of fish waiting for lunch and the fast roiling water prevents them from being too picky. This was my best spot for trout, but had other benefits as well. Central stonerollers are a common fish in the river but usually eat nothing but micro invertebrates among the rocks. On this trip as well as one last spring they were feeding in the rapids alongside the trout. I have never seen this anywhere else.

It seemed like I spent most of last summer's challenge sending Chris multiple entries (of different looking fish) that all turned out to be creek chubs. Also, my last fish of 2014 were chubs. In that tradition it's only fitting that I also start out the 2015 season with a creek chub, just to be consistent.

The little fish were caught on my Soyokaze using small Utah Killer Bugs. Most of the trout, the chub and stoneroller were on a Nissin Zerosum using mainly Beadhead Killer Buggers. I also got trout on a Tupps yarn Killer Bug and a UKB. My pink chenille worm got hits but no hooks until the split shot got caught on the rocks and broke the tippet.

The weather was sunny and around fifty. No jacket and five species in January. I'm still excited.
Return to Your Tenkara Stories.
---
"The bitterness of poor quality remains long after the sweetness of low price is forgotten" - Benjamin Franklin
"Be sure in casting, that your fly fall first into the water, for if the line fall first, it scares or frightens the fish..." -
Col. Robert Venables 1662
As age slows my pace, I will become more like the heron.

---
Warning:
The hooks are sharp.
The coffee's hot.
The fish are slippery when wet.
Beware of the Dogma

---