Lower Madison
by Phillip Dobson
(Butte, MT)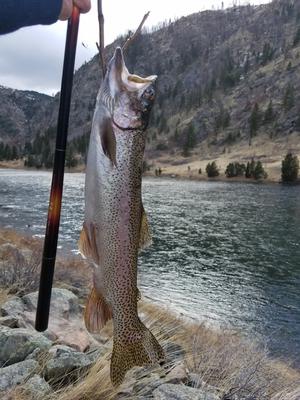 Save a cutthroat, eat a cutbow.
It was raining in Butte the other day, so I decided to check out the fishing east of the divide. Ignoring the severe wind alerts, I drove out to the mouth of Bear Trap Canyon on the lower Madison. I wasn't sure if I'd be able to cast at all in the wind, but I figured if the Field Master didn't cut it, I could always put something heavy on the 4wt and punch short casts into promising lies.

Not a single car was in the parking area. I love Montana.

Grabbing my stuff, I realized I forgot the Field Master at home along with the reel for the 4wt. I had my Sagiri 54 and my Mom's Sagiri 45 that I accidentally stole during my last visit. Those are powerful, fast action rods, right?

With the wind whipping up whitecaps, I gave it a shot. Just holding the 5m rod was a forearm workout, let alone casting it. I found that if I waited for a lull in the wind, I could drop a cast into the target up and across. Then the crux was maintaining a decent drift. I kept the rod tip low and anchored the line in the water. I was able to track the fly by fixing on the end of my level line, which I've marked with a small spot of indicator yarn.

Fishing a sz20 Frenchie, I got a strike from a nice rainbow. It gave me a good chase before jumping and throwing the fly. Another, smaller, but feisty rainbow came out of the same current seam.

The wind kept getting worse. I caught a tiny whitefish, my first of the winter. The last promising pocket was a challenge. I could only get a decent drift every few minutes. Fortunately decent was enough, and I hooked up with a big beautiful rainbow-cutthroat hybrid. These aggressive, sterile hybrids are hard on the wild fishery, so this one came home to the dinner table.

It just went to show that the best conditions are whenever you can get outside, and the best equipment is what you have. Most people wouldn't normally use a seiryu rod for big trout in big water and big winds, but it worked. Way more effective than staying home.
---
"The bitterness of poor quality remains long after the sweetness of low price is forgotten" - Benjamin Franklin
"Be sure in casting, that your fly fall first into the water, for if the line fall first, it scares or frightens the fish..." -
Col. Robert Venables 1662
As age slows my pace, I will become more like the heron.

---
Warning:
The hooks are sharp.
The coffee's hot.
The fish are slippery when wet.
Beware of the Dogma

---