Covid-19 Announcement
Most international flights have been cancelled.
There is no ETA for out-of-stock items that come from Japan.
Shipments to overseas buyers will take longer than normal - possibly much longer. Patience is a virtue - especially in fishing.

---
Lost Maples State Natural Area . . . Texas Tenkara Treasure
by John Evans
(San Antonio, TX)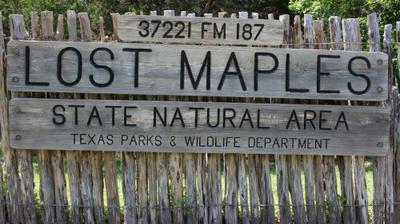 Entry to Lost Maples State Natural Area
Lost Maples State Natural Area . . . Texas Tenkara Treasure

Would you enjoy testing your tenkara skills in a pristine, Texas Hill Country setting that boasts spectacular views but receives little fishing pressure? Do you like to catch largemouth bass, Guadalupe bass (the state fish that is often called "Texas trout" because it favors swifter waters), channel catfish, trophy-size green sunfish, bluegills, and colorful long ear sunfish? If so, I'd recommend that you give Lost Maples State Natural area, outside of Vanderpool, TX, a try.
This 2,174 acre natural area is located in some of the prettiest country in Bandera and Real counties. Lost Maples is best known for its spectacular fall colors, and the area can be very crowded on the weekends during November and December. During the rest of the year, however, Lost Maples is not as heavily visited as many state parks and natural areas. Plus, Lost Maples is not known for its fishing. In fact, I have never (repeat, NEVER) seen another tenkara fisherman, though you will see the occasional western-style fly fisherman. Most of the anglers who do come to Lost Maples concentrate on the two large ponds that are located in the high country.
Instead, I would encourage you to try the feeder creeks around the low water crossings that feed into the Sabinal River. The pools and runs hold more fish than most people realize. The fish are often spooky in the glassy-clear water, but that just adds to the challenge and excitement. Lightly-weighted killer bugs and traditional kebari-style flies work just fine. Use a stealthy approach and pinpoint your casts to the rocks and scattered vegetation. At first you may not see the fish, but they are there! A real bonus at Lost Maples is that you will often hook a three-inch sunfish only to have it swallowed by a three-pound bass as you're pulling it in! (I don't know why that happens so frequently here, but it does.) The creeks also support some truly large, aggressive green sunfish in the half-pound plus category.
Just be aware that the water is often deceptively deep. A creek that appears to only be six-inches deep because of how clear it is will often be chest high. Stay safe!
Because you never know what you might hook, I'd recommend a tenkara rod with a sensitive tip but some backbone. Also, because of overhanging brush, a fairly short pole is handy. My favorite "go-to rod" at Lost Maples is a Nissin Fine Mode 270, which I purchased from Chris Stewart at Tenkarabum. This is a great area for micro-fishing the little sunfish, too. I often will sneak up to a little pool with a Shimotsuke Kiyotaki 18 and catch half a dozen long ears before the fish take cover.
If you plan to overnight camp, especially on a weekend, reservations are a must. The developed campground is fairly small, and often there will be church groups or Boy Scout troops. You won't see many fishermen, however. The park rangers are accommodating and encouraging to fly fisherman, and you'll often have the streams to yourself.
This is one of the few areas in the world that supports the pure strain Guadalupe bass, which are just the right size for tenkara fishing. As an added bonus, right now Texas State Parks and Natural Areas do not require you to have a fishing license—your entry permit is all the permission you'll need. The bass fishing is catch-and-release only. (Be sure to check the regulations when you come.)
If you live in the Lone Star State, or find yourself vacationing this direction, bring your favorite tenkara rod and flies to Lost Maples State Natural Area. The scenery is great and the fishing can be even better! --John Evans

---
"The bitterness of poor quality remains long after the sweetness of low price is forgotten" – Benjamin Franklin
"Be sure in casting, that your fly fall first into the water, for if the line fall first, it scares or frightens the fish..." Col. Robert Venables 1662
As age slows my pace, I will become more like the heron.

---
Warning:
The hooks are sharp.
The coffee's hot.
The fish are slippery when wet.
Beware of the Dogma

---