Kings Canyon National Park
by jleal
(Novato, California)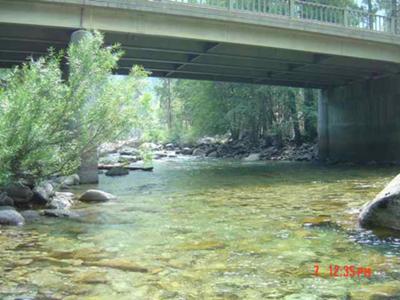 SF Kings River in Park
From Sept. 6th thru the 10th, I was able to camp and fish the beautiful SF Kings River inside and just outside the Park. This is a new river for me, and my first time to the central area of the Park, Cedar Grove. This trip also turned out to be my first real Tenkara fishing trip, although I also used my new Tenkara rod and lines 2 weeks ago on a trip with my oldest daughter to Bear Creek in the John Muir Wilderness. See my other trip report. This trip was very different though. I was solo, camping and fishing, not having to concern myself about anybody else's needs. That alone made the learning experience much more valuable to me.

The SF Kings River drains west out of the central Sierra Nevada mountains, originating in the high peaks of the Sierras and joining the larger Central Valley rivers that eventually drain into the Pacific Ocean. It's the high mountain freestone streams that I love to fish. What better way to catch trout than with a Tenkara rod. I camped and fished inside the Park and a few miles outside the Park boundary, which also happens to be DFG Wild Trout Water. The river is shallower and gentler in the Park, with some faster water sections. However, it is outside the Park that the river gains speed and volume, picking up a few smaller creeks on the way out of the Park, and dropping at a somewhat faster rate once it leaves the Park. The variety of water was excellent, access for miles is great, and I basically had the river to myself for 3 full days, seeing and talking to only 5 other fishermen, both fly and lure.

The fish in the Park tend to run smaller on average, feisty and strong nonetheless. Outside the Park, the average size was maybe 2-3 inches bigger. Both areas were a real joy to fish, peaceful and relaxing in the Park, fighting the stronger currents and deeper runs outside the Park. Each provided its own rewards. There are very respectable sized fish in the Park, however, they are far between. Outside the Park, the larger fish can run quite a bit bigger, plus the average size increases.

Since I had 3 full days to fish, I made the decision to limit myself to one line a day, come hell or high water. I figured that would force me to concentrate on the characteristics of each type of line better. I used each line whether fishing dry or wet, on the surface or below, wind or no wind, up or downstream, swing or dead drift. I used a Tenkara USA furled line 10.5' on day one. A #3 hi-vis flourocarbon level line(TenkaraBum) 12' on day two, and a 12' hi-vis mono tapered line(TenkaraBum) on day three. My tippet was 3-4' avg., 5x&6x. subsurface fishing tended to be with a shorter tippet, but not always. Most of my fish catching occurred after noontime, typical, I think, for mountain streams. I used the typical non catching time in the morning to practice on my technique and practice on covering the likely lies and current tongues. An occasional fish would hit the fly, demanding my full attention for a while. My rod is a new Tenkara USA Iwana, 12ft with 6:4 action. What a beautiful rod. All the lines were excellent as well, each type performing better or worse than the others depending on the fly used, the canyon winds, etc. Each line has its place. I kept the line length close to rod length, since I figured that would be the logical choice to start with. I'll use my shorter and longer lines as I gain experience. I think I made the right choice to do it the way I did. Now I have a knowledge base to build on.

The pictures with this report can't really do justice to the SF Kings River. It is a beautiful river, a wide variety of water types, road accessible for many miles, not crowded at all, and the beauty of the Sierra Nevada mountains to your left and right and straight up is awesome. This river will definitely become a member of my "Rivers To Fish Each Year" list. It will be a several day camp/fish trip for me because of the distance involved, but several of my rivers are that way anyway. I'll just be heading in a different direction to go to this river, compared to my usual Northern California haunts.

My thoughts on the different lines would take an entire page or two, but for now I need to break some old fly rod habits and learn the different techniques and problem solving that is unique to Tenkara fishing. I was constantly amazed at the line control possible with a Tenkara rod and line, no matter which type I had on at the time. Casting accuracy was exceptional compared to a fly rod, and it was proven to me on this trip by casting the dry fly under some overhanging branches on the river into a foot of water. The 12" rainbow that took my fly there was not very happy to have a hook in his mouth, either. He was my best/largest fish of the trip. This new Tenkara method of fishing and equipment is opening up new avenues for me after 25 years with a fly rod. Smaller streams have always been my favorite. I've fished the mid and higher elevation streams and each has its demands and charms. I love both. After a few more trips with this rod and lines, the trout aren't going to have a chance!!
---
"The bitterness of poor quality remains long after the sweetness of low price is forgotten" - Benjamin Franklin
"Be sure in casting, that your fly fall first into the water, for if the line fall first, it scares or frightens the fish..." -
Col. Robert Venables 1662
As age slows my pace, I will become more like the heron.

---
Warning:
The hooks are sharp.
The coffee's hot.
The fish are slippery when wet.
Beware of the Dogma

---