I have gotten emails from several customers concerned that their packages have been lost because they are late and/or tracking data shows them to have been in the Jersey City sorting facility for days.
Those packages are now moving. Most have been delivered already.

Please understand that shopping online this year has been unprecedented, and the USPS, UPS and FedEx are trying to run beyond their capacity. In the 10 years I have been shipping packages, (thousands and thousands of packages), the USPS has NEVER lost a Priority Mail package, and has lost only two or three First Class packages. Please be patient. Your packages will arrive.
---
Killer Bug Piggys
by Tenkara-Fishing
(Idaho)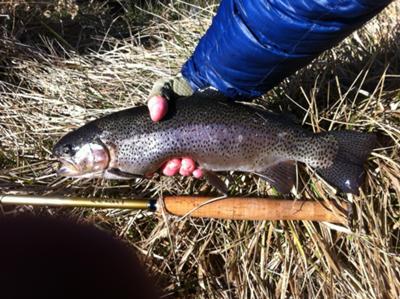 Took the day off yesterday to go do a bit of spring creek fishing here in Southern Idaho. I fished the first pool with a small red copper kebari for a while until some customers I was meeting got there for a rod demo. After they left I headed on down stream with a killer bug from Chris on my line. Up 'til this point most of the fish would have qualified well for Chris's new TanagoBum fishing. I had pulled a few fish in the 4-6 inch range from the first pool but most were 2-4" as I have normally found in this creek.

Working my way out to a large flat rock I pulled a half dozen fish out of the creek with the killer bug. Once on the Rock the fish before me were of much better size and I got several in the 8-10" range. I began working a pool diagonally up stream from me. I was casting our 11' rod with about 16" of level line and 4 foot of 5x tippet.

After a few smaller fish I got a real solid strike and fought a 13" bow for about a minute while he raced up stream and down. I was finally able to get him to the net, snap a couple quick pictures and release him. I cast back to the same pool running a drift right down the same line and nearly instantly felt a hard strike. I knew immediately that this was not only a larger but much stronger fish. I had to use two hands to maintain pressure on the fish and have any chance of turning his runs. The fight went on a over a minute before I was able to even bring the large bow to the surface. I would get the tip of his nose out of the water for a second before he would turn and dive below the surface again. While it probably only lasted a couple minutes I could have sworn it felt like five before I felt like I was wearing him down. I was finally able to bring him up along side the rock and grab for him with my tamo.

He filled the 9" net with length to spare. One twist from him and he freed the hook from his jaw, leaving the killer bug in the mesh of the net as he twisted. I shot a couple quick pictures and then held him in the water. With a shake he rocked off into the clear water.

He measured out at 16". While not the longest fish I have caught on Tenkara he was the strongest for sure. With constant pressure, but good give and take technique I only needed to take a couple steps around on the large flat rock to fight him.

Thanks Chris for the great flies, I'll be ordering some more for my box for this year.

Paul
Tenkara-Fishing.com

*First pictures are of the 16" bow followed buy the 13" that came right before.
Return to Your Tenkara Stories.
---
"The bitterness of poor quality remains long after the sweetness of low price is forgotten" - Benjamin Franklin
"Be sure in casting, that your fly fall first into the water, for if the line fall first, it scares or frightens the fish..." -
Col. Robert Venables 1662
As age slows my pace, I will become more like the heron.

---
Warning:
The hooks are sharp.
The coffee's hot.
The fish are slippery when wet.
Beware of the Dogma

---