Keiryu Trip Report- 9-2-18
OOPS - I just realized my last keiryu fishing trip report was from last January!
In my defense, this has not been an awe-inspiring year. The weather has been either too cold or too hot, the water has been too high or too low. Excuses? Of course -- but most trips did not yield much to write about. Plus, of course, with spinning, baitcasting, micros and tenkara to write about (or at least struggle to find something to write about) there just hasn't been much time for the simple worm on a hook.
Many trips were multi-method trips, as was my outing this past weekend. Some of the spinning rods I carry on the Finesse-Fishing site are designed specifically for fishing in "Areas" which are private, stocked, pay-to-fish lakes. We have some of those here, too, but they aren't nearly as popular here as they are in Japan. Here they tend to be called "fishing preserves."

A fishing preserve in the Catskills.
Wanting to see what the Area fishing was all about, I took my Tenryu Rayz Alter RZA61L-T to one such preserve in the Catskills. When I arrived, the guy behind the counter said fishing had been slow. I came to realize he had been modest. It was REALLY SLOW.
While I was there, I saw one guy catch one fish. I had one hit, but if, after over an hour of no activity, you see a torpedo chase down your spoon, you could be excused if you overreacted and broke your 2 lb test line on the hook set. The previous weekend, I had used the 2 lb line very successfully for panfish. That torpedo of a trout would not have fit in any pan. Oh, well. That's how you learn.
After another long stretch without so much as a follow, I decided to change my methods. I went to the Willowemoc Creek for some keiryu fishing. The "Willow," as it is often called, flows mostly through private land but there are a number of public access sites so it is easy to find a place to fish. I don't mind naming it because it is no secret.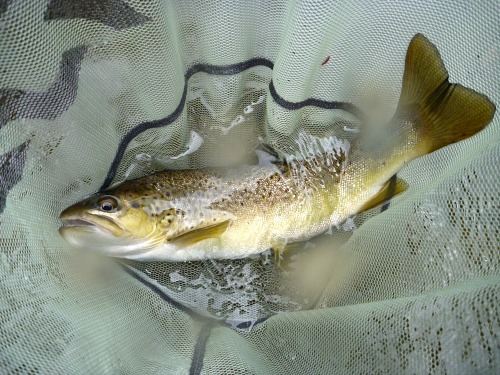 Willowemoc brown trout
There is one section of the stream that is "artificials only" but most is open to bait fishing. Because it had been such a long time since I had gone keiryu fishing, that's what I was there for. I was not disappointed.
I went to a spot where I had been before, and where I had caught fish before. The fish were still there.
What I usually do, though, is fish my way up to that particular spot. I have never had so much as a hit on the way up, and I didn't get one this time either. I don't know why I fish that unproductive water, but I always do and it is always unproductive. Maybe someday I'll learn that, too.
When I got to where I expected to catch fish, the first cast into an eddy next to a chute brought an immediate hit. I was ready for it and still missed it. I generally hook a worm once crossways in the middle so that both ends can wriggle enticingly, and sometimes a fish will grab one end of the worm rather than the whole worm. You feel a quick tug but when you lift the rod to set the hook, there's nothing there (and no worm left). I often find, though, that if the fish just took the worm and didn't feel the prick of the hook, it will strike again. I rebaited and recast. Same spot, same tug but this time a solid hook up.
The jumper
They say browns don't jump. Don't believe it. I think in my entire life I may have caught only one or two rainbows that jumped as much as that brown did. Spectacular leaps well out of the water, and one after another.
They also say browns are in the quiet water. Well, quiet may be relative. Just a couple casts later, this time into the chute next to the above-mentioned eddy, and before the water had slowed enough for me to expect a hit, the keiryu markers dipped sharply.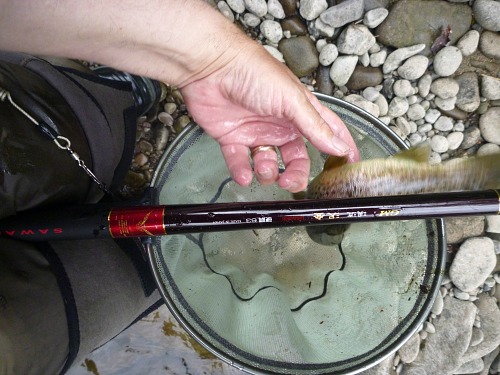 Slippery when wet.
There was no missing this fish. He hooked himself behind the upper "lip" as soon as he took the worm. The hook held, but for the life of me I could not hold the fish long enough to get a photo. I find that rainbows are hard to photograph. They won't lie still for an instant. Browns will usually hold still just long enough, but either this guy was too fast or I was too slow.
It wasn't a "many" day but it was a good day. I also realized how much I missed keiryu fishing. Most of us started fishing with a worm on a hook. Most of us lost something when we stopped fishing that way.

---
TenkaraBum Home > Keiryu Trip Reports > Trip Report 9-2-18

---
"The bitterness of poor quality remains long after the sweetness of low price is forgotten" - Benjamin Franklin
"Be sure in casting, that your fly fall first into the water, for if the line fall first, it scares or frightens the fish..." -
Col. Robert Venables 1662
As age slows my pace, I will become more like the heron.

---
Warning:
The hooks are sharp.
The coffee's hot.
The fish are slippery when wet.
Beware of the Dogma

---