Keiryu Trip Report - 7-9-20
Small Stream Keiryu Fishing

Last week I did some small stream keiryu fishing. Like many smaller streams in the East, the banks were heavily wooded and many branches extended out over the stream. Fishing a typical 5.4 or 6.3m keiryu rod would have been impossible.
I started out with a Suntech Kurenai HM45R and ended up with a Kurenai HM39R. The Kurenai rods are seiryu rods rather than keiryu rods, but given that the fish I expected to catch were only 5-8" long, the seiryu rods were ideal. Had I expected to catch trout of perhaps 12-18", I would have chosen the Suntech TenkaraBum Traveler 44 instead.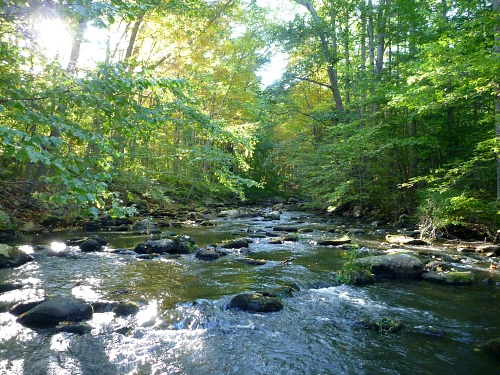 Typical Eastern trout stream.
Even with rods that were shorter than normal keiryu rods, there were still eddies and runs that surely held fish but which I had to pass up. You can cast a tenkara line under a relatively low branch. With keiryu fishing, though, your line is much more nearly vertical. Low tree branches give trout sanctuary from keiryu anglers as well as from ospreys.
The stream I went to is the one on which I first tried what I came to call Ultralight Worm Fishing. The most significant difference between Ultralight Worm Fishing and keiryu fishing with a Kurenai HM39R is the line.
For Ultralight Worm Fishing I would have used a size 2.5 tenkara line and either no added weight at all or perhaps a Dinsmore #10 shot or two, depending on the water's depth. The tenkara line provides the weight to make the cast and the sag in the hi-vis line provides strike detection. The shot (if needed at all) just takes the worm a little deeper. 
For the keiryu fishing with the Kurenai, my line was 7X tippet from rod tip to hook. One Dinsmore #6 shot, plus the minimal weight of the worm itself, provided all the weight necessary to make the cast. Four knots of keiryu marker yarn, tag ends cut very short to minimize wind resistance, provided strike detection.
The photo below, taken to illustrate knots used on a different trip, shows how short the tag ends are cut to minimize wind resistance, allowing the use of very light shot. Marker knots with the tag ends cut this short are not easily visible at a distance and are suitable only for relatively short rods on relatively small streams.

Keiryu marker knots with tag ends cut short
I would normally make a keiryu line in three parts: hi-vis Tenjo line at the top, then the main portion of the line (to which the markers are tied), and finally a weaker tippet at the end (to which the shot and hook are affixed). The hi-vis Tenjo line points the way to the markers, making them easier to spot. The weaker tippet at the bottom will break if you get a snag, preserving the rest of your line. With my relatively short total line length and water shallow enough to retrieve any snag, the complexity of the three-part line wasn't needed. There were times the hi-vis Tenjo line would have helped, though. I would recommend using it.

I did find it useful to space the knots further apart than I have been doing, though. When I first tried keiryu fishing, I spaced my knots at about 8" intervals. Following a suggestion from another American keiryu angler, I started spacing the four knots at just 2-3" intervals. Spaced that closely, they do present an easily watched indicator. However, they may be hard to spot at first. Spacing them further apart makes them easier to spot either during the cast or immediately after the bait enters the water. I think I will go back to the 6-8" spacing that I see on Japanese keiryu YouTube videos.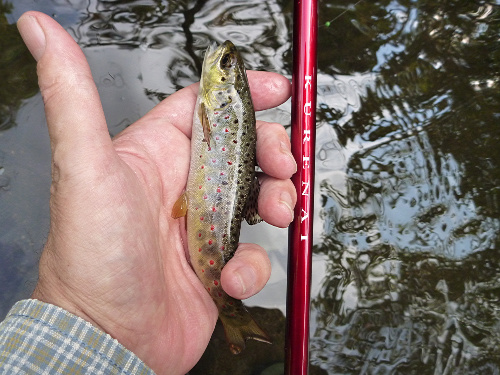 The first of many.
To say the small-stream keiryu fishing method was successful would be an understatement. More than once I caught multiple fish out of one small run. Catching a splashy fish on a dry fly may cause other fish to stop feeding on surface insects, but the same does not seem to hold true for catching fish on a red wiggler. The small worm is perfectly natural. With a small, light hook and a small shot on light tippet, the drift with keiryu fishing is as close to perfectly natural as you can possibly get.
That raises an interesting question. Which is better in a small stream, Ultralight Worm Fishing (size 2.5 tenkara line, no weight) or small-stream keiryu fishing (light tippet, closely cropped markers and minimal weight)? I think it may come down to personal preference. Both are extremely effective. For very shallow water, though, I would use Ultralight Worm Fishing, as even the lightest shot would increase the chance for snags. For water deeper than maybe 16", I'd fish as I did on this trip.
---
TenkaraBum Home > Keiryu Trip Reports > Keiryu Trip Report 7-9-20

---
"The bitterness of poor quality remains long after the sweetness of low price is forgotten" - Benjamin Franklin
"Be sure in casting, that your fly fall first into the water, for if the line fall first, it scares or frightens the fish..." -
Col. Robert Venables 1662
As age slows my pace, I will become more like the heron.

---
Warning:
The hooks are sharp.
The coffee's hot.
The fish are slippery when wet.
Beware of the Dogma

---