Keeping your distance - keeping your sanity
by Les Albjerg
(Caldwell, Idaho)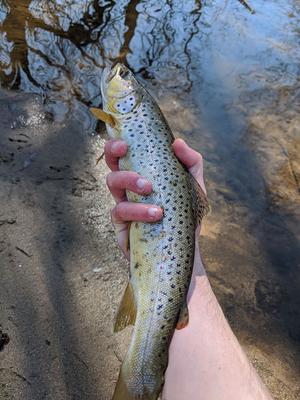 A Boise Brown
These are strange times! Good thing we have a solitary sport. At least most of the time. Early yesterday morning I had to run some errands for my wife that took me by one of the nearby ponds. I enjoyed the pond with 3 others, the nearest well over 20 yards from me. I caught 3 planters with my spinning gear, but really wanted to get out with my new Nissin Royal Stage Honryu 33. After doing several chores around the house, I headed out to another pond - too many people! I checked with one of the groups I belong to, and lots of folks were out fishing yesterday. I'm glad because some time on the water is good for the soul.

So off to one of my river spots with Red Wigglers and some rigs tied with Varivas Ultra Midge size 20 hooks. The old-timers used bigger hooks even with Red Wigglers, so I have been curious as to how these hooks would work. I have used Daiichi hooks in size 18,20, and 22. I found the 22 to be a little small for consistent hook-ups I had also tied up a couple of "Pennell" rigs as described in "Clear Water Trout Fishing with Worm" by Sidney Spencer. I used red silk and my fly-tying vice to set the hooks at 180 degrees from each other and used my favorite 6.5x leader material.

I have a special spot on the Boise River that nobody else ever fishes. It takes a little work to get there! The water was clear, the sun was out and the birds didn't care about the craziness that is happening to us humans! It didn't matter if I caught a fish. I work in healthcare, it has been a stressful week, and there is no end in sight. So some recharging time was in order! I knew the 3.3 meter rod would be just perfect for this 200 yard stretch of water. I was often frustrated with that extra length of the TenkaraBum 40. The second cast resulted in the above nice Boise brown trout. The Pennell rig worked to perfection! The trout did a dive around a rock, but the backbone of the Nissin Royal Stage Honryu was able to handle his antics! It was a nice 5-7 minute battle! I caught a couple more smaller browns and three mountain whitefish in an hour of fishing. This rod is everything I wanted it to be! I really like the longer sections of this rod. It is strong, sensitive, and smooth! So if you don't have to pack in, these longer section rods give you a stronger rod, and I think more bang for your buck.

So one of the joys of our solitary sport is we don't usually have a problem with distancing. So, I would encourage you to get out and wet a line, recharge your spirit. This health scare will pass, and I am praying we will all be stronger as we come out of it. I've had to cancel two trips and possibly a third will get canceled. Look for local waters that you can enjoy! Stay safe out there!
---
"The bitterness of poor quality remains long after the sweetness of low price is forgotten" - Benjamin Franklin
"Be sure in casting, that your fly fall first into the water, for if the line fall first, it scares or frightens the fish..." -
Col. Robert Venables 1662
As age slows my pace, I will become more like the heron.

---
Warning:
The hooks are sharp.
The coffee's hot.
The fish are slippery when wet.
Beware of the Dogma

---