I have gotten emails from several customers concerned that their packages have been lost because they are late and/or tracking data shows them to have been in the Jersey City sorting facility for days.
Those packages are now moving. Most have been delivered already.

Please understand that shopping online this year has been unprecedented, and the USPS, UPS and FedEx are trying to run beyond their capacity. In the 10 years I have been shipping packages, (thousands and thousands of packages), the USPS has NEVER lost a Priority Mail package, and has lost only two or three First Class packages. Please be patient. Your packages will arrive.
---
If The Tenkara Fits
by Martin Powney
(Vienna, W.V.)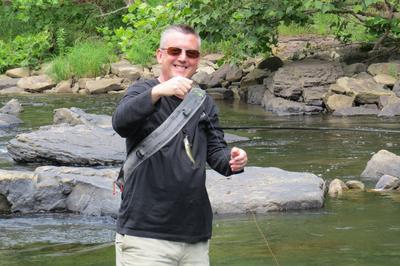 Bluestone smallmouth
I would like to thank a friend of mine, colleague actually, he pushed me over the edge…….

I had been staring longingly, all winter, over Tenkara rods on a certain other famous website (I feel a bit guilty now). PRESS the button my friend said, but which one? Try TenkaraBum he suggested, lots of choice and advice, bound to find one that suites.

My species of angler loves variety, warm water fishing, cold water fishing, any water that has fish in it fishing! The button that I pressed was the Suntech Field Master. A month later I now believe that there were probably several correct choices that I could have made but, I do love my Field Master!

So far I fish the 3.5 orange FC level line, rod length (3.6 middle length) with 3 foot of 5x or 6x tippet. Cream killer bugs, black killer buggers and a Steeves' type beetle for on top. I have caught 3 types of Sunfish up to 10", Largemouth to 12", Smallmouth and Crappie. The numbers caught are many times those I would usually catch with traditional fly fishing. I guess keeping the line off the water and seeing the subtle takes really aids the catch rate.

I own an Orvis 1# superfine, it's great, I have caught a 3lb bass on it, never seen anything hoop over like that before but, now all I can think is that I could have got 2 Tenkara rods for the same price.

Two fond memories this summer: first, my teenage kids paddled me around a lake on a pedalo whilst I cast with the FM at likely spots. A nice Bluegill came out from under a log and snatched the killer bugger #12. Second, fishing the scenic Bluestone river gorge in WV. The couple of little smallmouth bass were a bonus. You could watch them take the #14 cream killer bug in the clear creek water.

Thanks Chris and my friend, there is no looking back now…. I may never hold a cork rod again.

Return to Your Tenkara Stories.
---
"The bitterness of poor quality remains long after the sweetness of low price is forgotten" - Benjamin Franklin
"Be sure in casting, that your fly fall first into the water, for if the line fall first, it scares or frightens the fish..." -
Col. Robert Venables 1662
As age slows my pace, I will become more like the heron.

---
Warning:
The hooks are sharp.
The coffee's hot.
The fish are slippery when wet.
Beware of the Dogma

---