Please note: All the "Add to Cart" buttons have been switched to Shopify from PayPal (although you can still pay with a PayPal account). If you experience problems during checkout please use the contact form.

I know some of the buttons need to be modified.
Buttons that offer a choice of size, color, etc. show the stocks condition for top choice only! Make your choice to see if the item is in stock.

To be notified when an Out of Stock item is back in stock,
please use the contact form and indicate the desired item.
---
Humble Pie
by Dave
(Baton Rouge)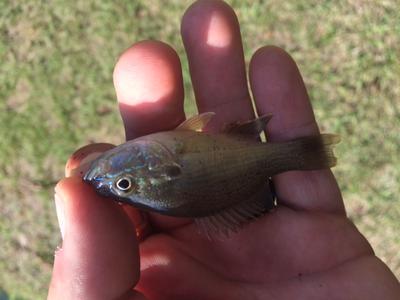 First Fish
Ever since I was little I always looked down on the "worm fishers". As I grew up, I continued to buy the latest and greatest artificials that promised "the big one". Never happened.

Fast forward many years ...... Recently here I bought a couple of rods, the Nissin 270 in the small stream kit. Once ordered, I actually had a panic attack, it wasn't listed as a Tenkara rod on the site. It was listed as a keiryu rod, well what the heck is keiryu? That friends was the beginning of the... well the beginning. I never have worm fished but always thought imitating natural bait was the best, which is what brought me to fly tying and fly fishing.

It's amazing the disconnect in my mind, that I never once thought to just using the real thing. I poured over the pages of the site over and over and over reading every keiryu article possible. Finally I settled on the Field Master 44 with some Owner keiryu rigs and bit the bullet as it were.

Late last night, I was typing reports, when my lieutenant randomly texted me to take tomorrow night off. What is going on??????

Well apparently when your boss thinks you deserve a day take it!!! So today, I set out determined to do the keiryu. At first I went to a stream, and started to look for bugs. Well, every rock turned over yielded only ants more ants and wait for it more ants. The fishing is so bare here in Baton Rouge proper that I have not caught something on a fly in months. So after "striking out" pun very much intended, I traveled to a pet store and bought fifty small worms and a dozen crickets. All in all set me back $1.80 and went to a nice lake that I have not had much luck in. I took the Field Master and an Owner keiryu rig, which I shortened from 4.5 meters to 3.6 and commenced. Yes I put a worm on a hook....... and I liked it just like the book green eggs and ham.

What followed was amazing, accidental micro fishing. I caught tons of fish, all way too small to challenge the mighty Field Master, however I still felt every head shake on the rod and the ~three incher put a surprising bend in the rod. Wow, I'm hooked!! Again pun intended. Looks like I may need to get a micro rod now, because I had more fun fishing today than I have in the last year. The Field Master casts the Owner rigs beautifully and I could not be happier. The rigs made dipping into keiryu so easy, and I am very impressed with how proficient keiryu is!! You owe it to yourself to try!

---
"The bitterness of poor quality remains long after the sweetness of low price is forgotten" – Benjamin Franklin
"Study to be quiet." - Izaak Walton 1653

"Be sure in casting, that your fly fall first into the water, for if the line fall first, it scares or frightens the fish..." Col. Robert Venables 1662
As age slows my pace, I will become more like the heron.

---
Warning:
The hooks are sharp.
The coffee's hot.
The fish are slippery when wet.
Beware of the Dogma

---