Honryu to Hillsdale
by Alan Luecke
(Kansas City, MO)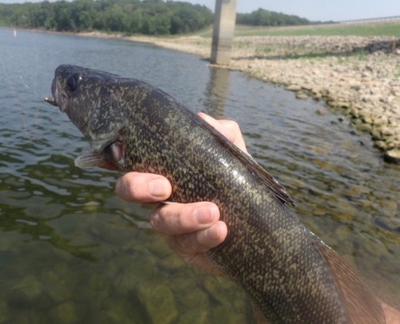 Walleye at Hillsdale lake
I was looking forward to my second Oni School in a few weeks and I realized I didn't own an Oni rod (you don't have to have one). But never one to let a good excuse go to waste, I just received my Nissan Oni Honryu 450.

I've always been intrigued by this rod, a big water big fish true tenkara rod. Up until now my go to rod above 4 meters has been my Diawa Kiyose 43MF. It's extremely capable but does best with some weight on the line. The bend profile of the Kiyose is very much a 7:3. It gets stiff fast. The Oni Honryu on the other hand is a full flex rod, but not a soft rod. This is new territory for me. My experience to this point has only been with very willowy full flex rods.

A big fish rod needs big fish. So with visions of the Lower Provo in my mind I headed to Hillsdale Lake on Big Bull Creek. This is the lake with the shallow "flats" like water on the dam face that I've written about several times. It was the middle of a sunny day and I did not expect a "many" day, but one never knows at Hillsdale.

I have not mastered this rod. It's different than any rod I've cast and it will take some time to really know it. That said, the rod didn't care what I did, it just delivered one good cast after another. The rod is so well balanced it doesn't feel nearly as big as it is. I found myself rushing the cast because I would forget just how much rod and line I had waving around above my head. A good back cast is important to load that much rod. After that the rod takes care of the rest. As long as I came to a clean stop the rod would consistently unroll a nice loop and drop the tippet fly first on the water.

While not a many day the fish did cooperate. My second cast hooked a nearly 20" Walleye. A little later I got a mid-teen White Bass and at the end a nice Drum. In between were some Bluegill and a Green Sunfish. The feel of the rod during a fight is the biggest difference with the Kiyose. As the Kiyose gets stiff you gain power and control--right up 'til the tippet breaks. The Honryu just keeps on flexing. It inspires incredible confidence. At no time did it feel like I might break off any of these fish. On the other hand, you have to let the rod do work. You can guide the fish but you can't pull it where you want it to go.

I'm excited about the Oni school, but equally excited about this rod. After Utah maybe the 450 in the surf in Florida with a Clouser and I don't care what bites it.

Return to Your Tenkara Stories.
---
"The bitterness of poor quality remains long after the sweetness of low price is forgotten" - Benjamin Franklin
"Be sure in casting, that your fly fall first into the water, for if the line fall first, it scares or frightens the fish..." -
Col. Robert Venables 1662
As age slows my pace, I will become more like the heron.

---
Warning:
The hooks are sharp.
The coffee's hot.
The fish are slippery when wet.
Beware of the Dogma

---