Hiking and Fishing the Guadalupe
by John Evans
(San Antonio, TX)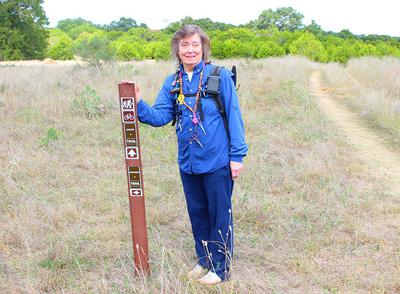 Robin hiking the Bauer Unit at Guadalupe River State Park
My wife, Robin, and I were able to take a quick trip to the upper Guadalupe River this past week, with good success. We caught a mixture of redbreast sunfish, green sunfish, Rio Grande Cichlids, and Guadalupe bass. Robin fished with nightcrawlers on her Suntech Field Master 39, and I used a grasshopper dry fly on my Nissin Zerosum 320.

The main point of this article, however, is to point out the value of fishing less-frequented waters. Most anglers enter Guadalupe River State Park on the main, headquarters side of the river. During summer weekends, the only thing you're liable to catch on that side of the park is an inner tube and an irate sunbather.
But, on the north side, down a nice country lane, is the Bauer Unit. Yes, it's a mile-and-a-half hike to the river, but most of us need all the exercise we can get. Plus, the hike insures that there will be fewer anglers once you get there. By the way, if you are going to the Bauer Unit, be sure to check the park information website because this unit is closed some fall weekends for drawn deer hunts.

Hey, I almost hate giving away this secret; but the Bauer Unit offers some of the best warm water river fishing in Texas. A little extra time and a little more walking almost always pay off.
I bet you have a place like that in your neck of the woods . . . a stretch of water that's harder to get to or is somehow less inviting. That may be the best spot around!

Want better fishing? Go where the other anglers aren't.

---
"The bitterness of poor quality remains long after the sweetness of low price is forgotten" - Benjamin Franklin
"Be sure in casting, that your fly fall first into the water, for if the line fall first, it scares or frightens the fish..." -
Col. Robert Venables 1662
As age slows my pace, I will become more like the heron.

---
Warning:
The hooks are sharp.
The coffee's hot.
The fish are slippery when wet.
Beware of the Dogma

---