High Water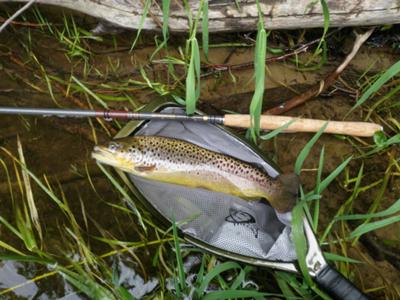 This story was submitted without a name. No reason to be shy, especially with a fish like that and the pics to prove it.
_______

I was fishing upper New York State with my Iwana 12 II, which I come to truly love. Me and a friend were both under a bridge on the river. I was just down river from him maybe 15ft. I believe every cast he had a fish on in the first 15 mins. I may have caught 3 fish in that time. Cause of the water being high and harder to wade we couldn't quite make it to the pool that holds alot of the larger fish. So I got myself in the water at a different angle with a big heavy fly to get down to the bottom. With the length of the rod and line I was able to reach the hole with ease, which I have a tough time doing with my fly rod for the high sticking method.

After working the water for about 5 mins and making my way closer to the sweet spot, I hook up to what I believed to be a small fish. Then when I tried to lift the fish towards the surface it dug down in the heavy current and my rod bent right over I believe in hand was a maxium amount of power on the tippet. So again I gave a good lift on the rod to see a large flash. Thats when my heart started to really pump. At this point I'm scared to see what happens next.

Sure enough the big trout makes his way down stream for about 20 ft and he moves fast. I just have to move 5 ft at that point to keep the line tight. The fish takes one last run against the heavy current, then here it comes. With the high water I have to make a quick choice to break the line or find out if I'm able to keep up with the fish down the stream with large rocks, fast water, and many bushes to hold on to with the 100m dash. After grabbing many branches I finally make it to some slower water where I land my largest brown trout caught. Only 17" but still nice. And thanks to tenkara.
Return to Your Tenkara Stories.
---
"The bitterness of poor quality remains long after the sweetness of low price is forgotten" - Benjamin Franklin
"Be sure in casting, that your fly fall first into the water, for if the line fall first, it scares or frightens the fish..." -
Col. Robert Venables 1662
As age slows my pace, I will become more like the heron.

---
Warning:
The hooks are sharp.
The coffee's hot.
The fish are slippery when wet.
Beware of the Dogma

---