High Water Tenkara
by John Evans
(San Antonio, TX)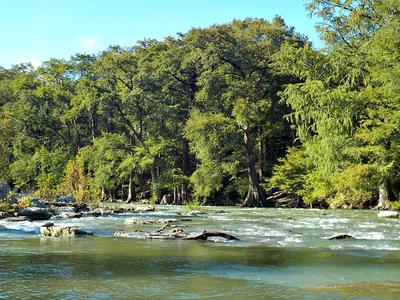 Over a foot of rain fell on the Upper Guadalupe River during September.
The month of August was extremely dry in San Antonio, TX. Then came the wettest September on record — 19" of rain at my house. Let's just say the fishing conditions changed. During August, I could count every rock in the rivers and creeks. By the end of September I couldn't see the rocks!

Fishing in high water is a challenge, and it calls for a different mind-set and different tactics. I'd like to mention five points that stand out in my mind.

First, stay safe! No fish is worth your life. If in doubt, stay out. Moving water is overwhelmingly powerful. That gentle rivulet a week ago may be a merciless torrent today. Last week you could see the obstacles on the bottom. Today you're not sure you can touch the bottom. Safety is paramount. If you're wearing waders, and they fill with water, you can easily drown. Don't take chances!

Second, your old spots probably won't work well when the water's up. Currents change, cover becomes submerged, pockets that held fish before are empty now. You can't get the drift you want. Higher water brings a different set of conditions. If you keep doing what you've always done, chances are your catch will go way down. Realize this and re-evaluate your situation.

Third, big rivers with big drainages tend to be affected the most and for the longest. I purposely visited all my favorite fishing holes after the heavy rains just to learn how the high water changed them. The upper Guadalupe River is one of my favorite spots, but I just couldn't fish it effectively. The water was the color of milky coffee, and the wading was too difficult and dangerous. On the other hand, one of my neighborhood creeks was just fine. The water came up, but, because the drainage is so small, it also went down quickly. Within a week, this creek was fishable again.

Fourth, higher water can open new fishing opportunities. The creek I mentioned above offered even better fishing than before. The reason was simple. Some of the little tributaries that were normally dry now had a fishable amount of water in them. In fact, I located a number of placid holes that were just right for tenkara. With new vegetation and crowds of drowned insects, the fish were everywhere. In one spot, no bigger than a living room, I took 30 bass, bluegills, and red breast sunfish on the same fly. What fun! While we had high water, I really wasn't fishing the high water.

Fifth, your fly selection changes. Higher water typically means more staining and more current. To be effective, I had to switch to bigger, heavier nymphs with brighter colors and more flash. Small dry flies in muted colors just weren't cutting it anymore. A little color and flash, with a little more weight, made all the difference in the world.

High water doesn't necessarily end the fishing, but you do have to stay safe and alter your tactics. In fact, it can provide opportunity to search for new tenkara spots.


---
"The bitterness of poor quality remains long after the sweetness of low price is forgotten" - Benjamin Franklin
"Be sure in casting, that your fly fall first into the water, for if the line fall first, it scares or frightens the fish..." -
Col. Robert Venables 1662
As age slows my pace, I will become more like the heron.

---
Warning:
The hooks are sharp.
The coffee's hot.
The fish are slippery when wet.
Beware of the Dogma

---