I have gotten emails from several customers concerned that their packages have been lost because they are late and/or tracking data shows them to have been in the Jersey City sorting facility for days.
Those packages are now moving. Most have been delivered already.

Please understand that shopping online this year has been unprecedented, and the USPS, UPS and FedEx are trying to run beyond their capacity. In the 10 years I have been shipping packages, (thousands and thousands of packages), the USPS has NEVER lost a Priority Mail package, and has lost only two or three First Class packages. Please be patient. Your packages will arrive.
---
Happy New Year
by Terry Farmer
(Albuquerque)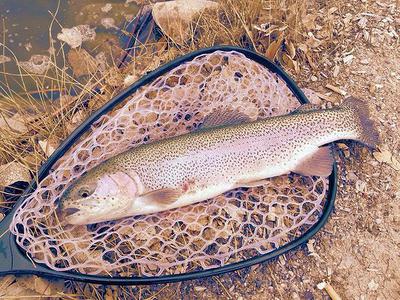 I started 2016 at our local Catch and Release pond. Brrrrr, 25 degrees and wind! The first fish broke my 5x tippet. I landed the next one, a nice 19" Rainbow. My Tenkara Bum 36 handled it with ease. 12' of 2.5 LL, 5' 5x tippet and a gold ribbed hares ear tied on a #12 wide eye hook. I really, really like the new TB36. The balance, action, strength, versatility and weight are right up my alley. It casts dries, nymphs (weighted and unweighted) with equal ease and I don't have to worry about hooking a bruiser from time to time. Happy New Year All!
Return to Your Tenkara Stories.
---
"The bitterness of poor quality remains long after the sweetness of low price is forgotten" - Benjamin Franklin
"Be sure in casting, that your fly fall first into the water, for if the line fall first, it scares or frightens the fish..." -
Col. Robert Venables 1662
As age slows my pace, I will become more like the heron.

---
Warning:
The hooks are sharp.
The coffee's hot.
The fish are slippery when wet.
Beware of the Dogma

---