Handle Experiments
by Phillip Dobson
(Butte, MT)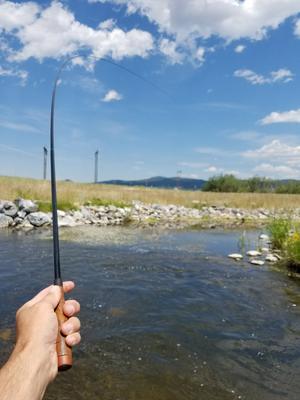 Plenty of bend in the rod.
This experiment came about for a few reasons, including a broken rod section I wanted to play with (this reminds me that I need to order replacements). But the main reason was that I'm jealous of light small stream rods like the Kurenai, but can't quite justify the purchase of one.

What I do have is a long Sagiri, within which is a beautifully light 3m blank. It just doesn't have a handle. I set out to make myself a Sagiri 34 with wooden handle.

The tip sections I used are about 340cm long and weigh 30g. I cut out blanks of koa and Pacific yew for the handles. Boring the wood was the trickiest part, as it's difficult to make long straight holes, and my wood blanks were narrow and didn't leave me much leeway. I used multiple bits to taper the bore and make a socket for the plug. I then reamed the taper to slide perfectly into position on the rod with a snug press fit. The turning was easy enough, and I tried a couple different profiles out. The butt caps are Honduras rosewood with an o-ring that press fits into position. The handles ended up weighing in a 18 and 20g. Some sanding and a coat of oil, and it was off to the river.

My first impression was how light and effortless the casting was. It was like I waved my hand, and the fly magically flew to its destination. My next impression was that there isn't much fish-stopping power at all. A 14" cutthroat was an exciting proposition. After a few good cutthroat, I went back to the truck, switched handles, and headed to the mountains to find one of the last ancestral strains of Westslope cutthroat.

I think I liked the chunkier yew handle a little more. It fit my hand well, and the word sensitive doesn't begin to describe how well the action of the fly was transmitted to my nerves. I was feeling the bumps of 2" cutthroat missing my kebari. I admit that a couple tiny fish hit hard enough that I over-enthusiatically took them for a ride.

I'll probably make a few more of these prototypes. Maybe an inch longer toward the butt, where it's hollowed out more, and a more snug, smaller profile butt cap. I'll have to dig around for more wood scraps.




---
"The bitterness of poor quality remains long after the sweetness of low price is forgotten" - Benjamin Franklin
"Be sure in casting, that your fly fall first into the water, for if the line fall first, it scares or frightens the fish..." -
Col. Robert Venables 1662
As age slows my pace, I will become more like the heron.

---
Warning:
The hooks are sharp.
The coffee's hot.
The fish are slippery when wet.
Beware of the Dogma

---