Covid-19 Announcement
TenkaraBum.com is located in New York City, which is essentially locked down.
Package pickup has been suspended. My neighborhood post office is closed. I go outside as little as possible because I am in an "at risk" group.
TenkaraBum.com is still open, for now. Next shipments tentatively scheduled for Wednesday, April 8 (rain in the forecast).
Most international flights have been cancelled, so there is no ETA for out-of-stock items that come from Japan.
---
Guadalupe Bass: A Tenkara Natural
by John Evans
(San Antonio, TX)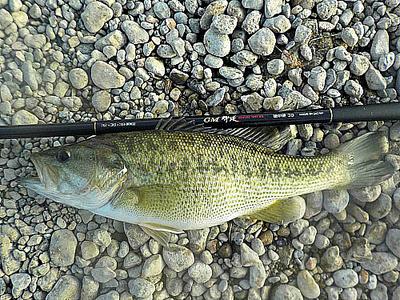 Guadalupe Bass Have Broken Diamond Markings on the Sides and Distinct Horizontal Rows of Spots on the Belly
The Guadalupe bass (Micropterus treculii) is a smaller, distinct species of bass found in the Edwards Plateau Region of Central Texas and its related drainages. Not only is it the official state fish of Texas, but it's also just right for tenkara angling. If you have the opportunity to visit the Lone Star State, I'd encourage you to bring along your favorite pole and flies and seek out this pugnacious little fighter.

Back in the 1970's the Texas Parks & Wildlife Department began stocking smallmouth bass in Central Texas rivers, with the unintended consequence that they hybridized with the native Guadalupe bass. When this dilution of the gene pool became apparent, the TPWD worked hard to reverse the problem and began re-establishing and encouraging the remaining pure populations of Guadalupe bass. From what I can see, these efforts are succeeding, and I now regularly catch what appear to be pure strain fish in the Lost Maples Natural Area, the Pedernales River, the South Llano River, the Blanco River, and, most often, the Guadalupe River.

Guadalupe bass are fairly easy to identify. They have broken, dark, diamond-shaped markings on their sides, and distinct horizontal rows of dots on their belly. The above photo shows you the classic markings.

Also, as I mentioned, most Guadalupe bass are small. The state record is less than 4 pounds, and most of them are in the 8-10 inch category. What they lack in size, however, they make up for in attitude. They eagerly strike small nymphs and streamers, and—once hooked—they make slashing runs and nice jumps. They have lots of endurance for a smaller game fish.

Guadalupe bass favor swifter waters than largemouth bass. You will often find the two species fairly close together. The largemouth bass will be lurking in the weed beds, while the Guadalupe bass will be working the seams of the current, similar to trout. In fact, people sometimes call them "Texas Trout."

I always encourage anglers to release all Guadalupe bass. In fact, in the Lost Maples State Natural Area, all of the bass fishing is strictly catch-and-release. Take photos but leave the fish.

Guadalupe bass eagerly take Utah Killer Bugs and other small nymphs, plus they also love Mummy worms if you want to keiryu fish. Live crickets are another favorite.

On a light tenkara rod, say a Nissin Fine Mode or something like that, the Guadalupe bass offers great sport and a scrapper's attitude. Anything over a pound is a large one, but all of them are beautiful. They're a unique fish, in a unique environment—the Texas Hill Country.


---
"The bitterness of poor quality remains long after the sweetness of low price is forgotten" – Benjamin Franklin
"Be sure in casting, that your fly fall first into the water, for if the line fall first, it scares or frightens the fish..." Col. Robert Venables 1662
As age slows my pace, I will become more like the heron.

---
Warning:
The hooks are sharp.
The coffee's hot.
The fish are slippery when wet.
Beware of the Dogma

---