Grass Carp
by Dan G
(Arkansas )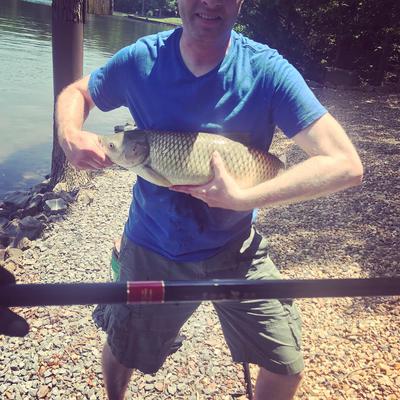 I'm posting this here because I was using bait (sweet corn) and a Kyogi 15 rod. A few weeks ago I finally had an opportunity to target carp, grass carp. My folks recently moved to their retirement home on a lake, which had been stocked with grass carp to control weed outgrowth. My dad had mentioned seeing carp cruising the shoreline so I suggested baiting them with sweet corn. Days later he's texting me pictures of grass carp and I got a bit jealous!

Fast forward to this summer and I was ready with my Kyogi, a tiny float, one split shot and a carp hook Chris stocks. ... and it was on! What a blast! I caught several and had a beast break the line after an intense run.

I've learned to lead them side to side to wear 'em out a bit. Also, make sure you have a long, extendable net. I would have landed the one that broke free had the net been longer. Today I'm headed back and hope to experience that again!
Return to Your Keiryu Stories.
---
"The bitterness of poor quality remains long after the sweetness of low price is forgotten" - Benjamin Franklin
"Be sure in casting, that your fly fall first into the water, for if the line fall first, it scares or frightens the fish..." -
Col. Robert Venables 1662
As age slows my pace, I will become more like the heron.

---
Warning:
The hooks are sharp.
The coffee's hot.
The fish are slippery when wet.
Beware of the Dogma

---