---
I will be away from January 13 through January 24. The store will remain open for new orders, which will be shipped beginning on January 27.
Emails might not get answered until January 27 or later.
---
Gorge Lake
by Phillip Dobson
(Butte, MT)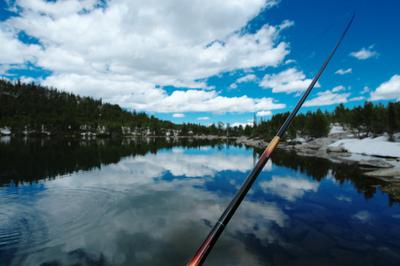 Summer is here, the rivers are flooding with water and fishermen, and the mountains are finally thawing. With that in mind, I took a hike up into the Pioneer Range on SW Montana to visit a lake that I haven't fished yet.

After a rough drive and a pleasant hike, I arrived at the beautiful southern lake to find that all of the ice had recently cleared. I haven't fished an alpine lake so early in the year before, but I quickly realized that the surface action would be slow. I didn't bring a whole lot of non-dry flies, but I cycled through what I did have. Bead head soft hackles, weighted streamers, and good, old-fashioned kebari were getting consistent results from the healthy cutthroat.

I've been trying to practice my Western fly casting in addition to tenkara fishing, as I found myself getting very dependant on the extra control the long rod. As the afternoon progressed I settled into a nice system. As I had said earlier, not many fish were taking dry flies, but there were a few cruising the surface. The rest of the fish were enthusiastic about kebari and nymphs. I rigged the Sagiri with a kebari and fished it most of time, occasionally picking up the 4wt to make a cast toward the occasional riser that popped up in range. This was an excellent combination of practicing long targeted casts with the Western rod, and catching fish continuously during the downtime.
---
"The bitterness of poor quality remains long after the sweetness of low price is forgotten" – Benjamin Franklin
"Study to be quiet." - Izaak Walton 1653

"Be sure in casting, that your fly fall first into the water, for if the line fall first, it scares or frightens the fish..." Col. Robert Venables 1662
As age slows my pace, I will become more like the heron.

---
Warning:
The hooks are sharp.
The coffee's hot.
The fish are slippery when wet.
Beware of the Dogma

---