Going to need a bigger net
by Mark Denovich
(Pittsburgh, PA)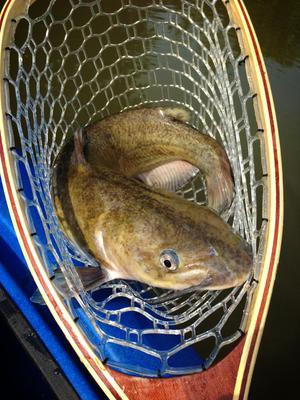 Warning: Non-traditional use of tenkara rods to follow. Purists, avert your eyes.

The Monongahela River a few miles upstream from downtown Pittsburgh, is one of my closest fishing options. The river is big, slow, and muddy. Shoreline fishing is challenging due to limited access and my nemesis: trees. Skunked on my first scouting trip, I went back for my first attempt at tenkara fishing from a kayak.

Fishing with a Kiyose 43MF, with 12' of #4 level line, and 4' of Seagar Invisix 4lb fluorocarbon (I already had a giant spool, and it's way cheaper than tippet) I soon found that a shorter level line section would be useful. Sitting in the kayak, I couldn't reach high enough to easily get the heavily weighted flies I was using clear of the water when starting the cast. Handlining the 16" smallmouth I soon caught was made tricky with the long line too. I persevered.

I paddled out of the cove where I put-in and into the main channel. The current, wind, and passing coal barges, meant I was frequently having to paddle and fish at the same time. It was in one of those moments, when my line suddenly went straight, my arm strained. Before I had the chance to even think "snag", the point where my line met the water took off upstream. "Holy Shi..." I dropped the paddle into my lap as I needed a second hand to steady the rod. I watched nervously as my rod was bent like a candy cane and I began to be towed upstream. The fight went on for about a minute or so before he tuckered out and I finally got a look at what I caught.

At 22" and around 5lbs, this channel catfish is my largest fish caught to date while fly fishing. The fly was a hastily constructed olive and white, zonker-tailed, hour glass-eyed, wooly bugger variant on a size 2 hook. I then promptly stuck that fly in a tree and called it a day.

I intend to be back for more.
---
"The bitterness of poor quality remains long after the sweetness of low price is forgotten" - Benjamin Franklin
"Be sure in casting, that your fly fall first into the water, for if the line fall first, it scares or frightens the fish..." -
Col. Robert Venables 1662
As age slows my pace, I will become more like the heron.

---
Warning:
The hooks are sharp.
The coffee's hot.
The fish are slippery when wet.
Beware of the Dogma

---