I have gotten emails from several customers concerned that their packages have been lost because they are late and/or tracking data shows them to have been in the Jersey City sorting facility for days.
Those packages are now moving. Most have been delivered already.

Please understand that shopping online this year has been unprecedented, and the USPS, UPS and FedEx are trying to run beyond their capacity. In the 10 years I have been shipping packages, (thousands and thousands of packages), the USPS has NEVER lost a Priority Mail package, and has lost only two or three First Class packages. Please be patient. Your packages will arrive.
---
Gear Keeper
The Gear Keeper is a heavy duty zinger that works like a net leash. It will let you use your net or wading staff, but won't let you lose it. It really is a very clever adaptation of the standard zinger.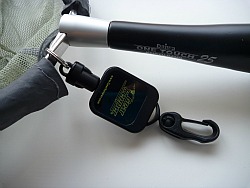 It doesn't have the power to "reel in" your net or your wading staff. If it did, it would be to hard to pull out the necessary slack to use them. What it does do, however, is reel in all that slack that is no longer needed when your net is back tucked safely in your belt.
I have often recommended fishing with a wading staff, and not just for old codgers like me. Face it, wet rocks are slick. With more and more states banning felt soles, or anglers taking it upon themselves to use rubber soled boots, those wet rocks seem to be slicker than ever before.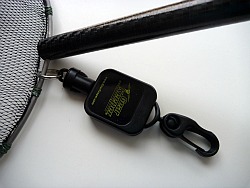 The Gear Keeper is great to use with a wading staff. When you are ready to net a fish you can drop your staff and it won't float away. The Gear Keeper won't retrieve it, but it will retrieve the "leash" so it is out of the way.
I used to use a length of narrow bungie cord, long enough and weak enough that I could easily stretch it to use my wading staff even at arm's length. Unfortunately, it was just long enough that it would catch on brush as I walked down what passes for trails along some of our lesser fished streams. Like that weak bungie cord, the Gear Keeper is also quite easy to pull against, so I can still use the wading staff at arm's length without feeling like I am in a gym on a weight machine.
When I walk down the "trail" though, there is no slack line to catch the brush. It really works nicely.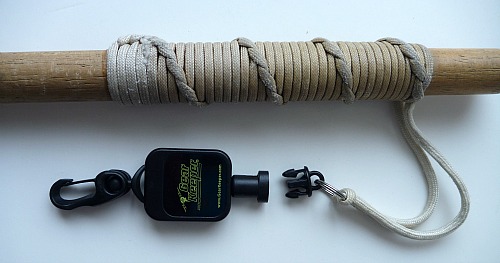 The Gear Keeper has a clip that you can attach to a D ring on a vest (if you wear one) or to a short para-cord loop on the belt around your chest waders (if you wear them). I just clip it to a belt loop on my trousers (another advantage of hippers).
One really nice feature is a quick-release connector built in to the Gear Keeper, so you are not tethered to your net and wading staff the whole day, and can easily get in your car (if you have one) to move to a different spot.
The Gear Keeper has a 36" extension, so even if you have long arms, there's plenty of reach. The cord is a Spectra/nylon blend with 50# breaking strength. The spring and hardware are stainless steel. I'd have to say I haven't found anything I don't like about the Gear Keeper.
Gear Keeper - $14
---
Shipping
Domestic shipping is $4, via USPS First Class Mail (unless ordered with an item that must go via Priority Mail, and which has a higher shipping charge). The charge is added to your order automatically.
Please note: All packages are shipped via USPS. If you have a PO Box, please list ONLY the PO Box in your address, not the PO Box and your street address.
If you live in an apartment, please put the apartment number on the same line in the order form as the your street address, for example
John Doe
123 Main St Apt 4
Yourtown, XX 12345
Just leave the second line blank! Please! It takes you more time to put something in it and it takes me more time to take it back out. If you need it for a business name, use it. Otherwise, please leave it blank. No dashes, no nothing.
The charge for international shipping depends on the destination country, the weight of the package, the overall length of the package and the value of the package.
Import Duties and Taxes

International purchases may be subject to import duties and taxes. I cannot keep track of all import regulations in all countries written in all languages. Understanding and paying import duties and taxes is the responsibility of the buyer.
TenkaraBum Home > Tenkara Accessories > Gear Keeper

---
"The bitterness of poor quality remains long after the sweetness of low price is forgotten" - Benjamin Franklin
"Be sure in casting, that your fly fall first into the water, for if the line fall first, it scares or frightens the fish..." -
Col. Robert Venables 1662
As age slows my pace, I will become more like the heron.

---
Warning:
The hooks are sharp.
The coffee's hot.
The fish are slippery when wet.
Beware of the Dogma

---