Frontier Fishing
by John Evans
(San Antonio, TX)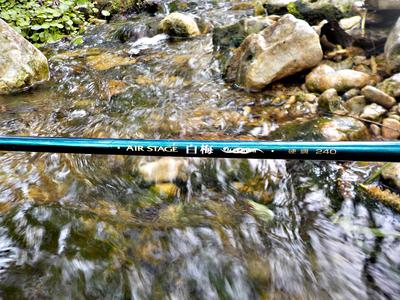 An Unnamed Creek and the Nissin Air Stage Hakubai 240
This article is not about backpacking into the remote wilderness or flying to a distant country. Instead, I'm using "frontier fishing" to describe a different type of angling: seeking out the under-used water near home and catching the under-appreciated species.

According to my old Random House dictionary, one meaning of "frontier" is "an undeveloped region." Some fishing spots, even close to home, may be undeveloped in the sense that they're not actively sought by other anglers. This is where tenkara and keiryu angling can offer a real advantage. You can explore areas that most anglers overlook and learn to enjoy fish that others ignore.

My guess is that most locales have several spots like this. You just have to keep your eyes open for the opportunities. For example, there are several creeks near my home that are teeming with fish, but almost no one fishes them! Or maybe I should say that there are stretches of water that no one fishes. Other anglers, with more traditional western equipment, may think that the water is too shallow or the brush is too tight. That's where a good set of waders and the right tenkara rod come in.

What does it take to enjoy this kind of "frontier fishing"? The equipment is pretty simple:
1. First, use your eyes. You have to search for the possibilities. Some of my best days of fishing have been in spots where the water never got over a foot deep. Several times I've caught dozens of fish before another angler came along and asked, "You're fishing there? Right there, in that little dab of water?" In my experience, there are almost always more fish than people imagine, even in tiny creeks.
2. Good waders and boots can help. Of course, in the right spot and weather, one can just wet wade. But, if you want to get to water that most anglers ignore, you have to get INTO the water. If anyone can get to a spot, then EVERYONE is going to fish it. As soon as I step into the water, I leave 90% of the other fishermen behind!
3. You need the right rod for close quarters. This local, "frontier fishing" is often a tight affair. Three rods I use with great success are the TenkaraBum Traveler 27 (actually, I have the earlier Keiryu Special version of the rod), the Nissin Air Stage Hakubai 240, and the Suntech Kurenai HM30R. These are exquisite rods. The Hakubai is more of a micro-fishing pole, incredibly light and sensitive. The Kurenai is longer and will handle a little bigger fish. The Traveler 27 is THE small creek rod, if you're not sure what you might catch. Using a slingshot cast, you can fish these rods under limbs, around roots, and close to cover. (It occurs to me that Chris's finesse spinning gear would also work well.)
4. Learning to tie a few flies will increase the enjoyment. Any fish is fun when you catch it on a fly you've tied. If a person only knew two or three simple flies—say a Utah Killer Bug, an Elk Hair Caddis, and perhaps an emerger—he would be in fine shape. Find the flies that work in your home waters. It always creates a sense of wonder in me when I catch a fish on a hook, some turns of thread, and a few inches of yarn. Tying simple flies is not hard; it just takes a bit of patience and practice. Most fish don't care how neat you are in tying. In fact, scruffy flies often catch more fish.

Perhaps the greatest requirement is simply to enjoy the fish you find, wherever they live. Tiny bass, big shiners, sunfish, small catfish, cichlids, they all possess a unique beauty, and all are wonderful sport on the right equipment. Don't worry about what others think when you catch a 3-inch bluegill; YOU enjoy the experience. This is the best kind of exploration, and it's available to just about everyone who enjoys angling.

---
"The bitterness of poor quality remains long after the sweetness of low price is forgotten" - Benjamin Franklin
"Be sure in casting, that your fly fall first into the water, for if the line fall first, it scares or frightens the fish..." -
Col. Robert Venables 1662
As age slows my pace, I will become more like the heron.

---
Warning:
The hooks are sharp.
The coffee's hot.
The fish are slippery when wet.
Beware of the Dogma

---