Fly Pictures, by Request
by Jeff D
(Overland Park, KS)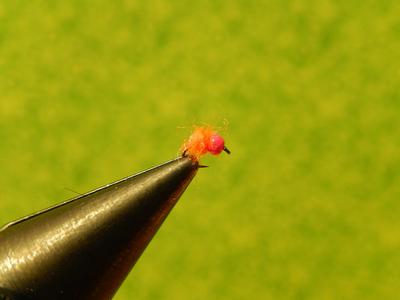 Micro Egg
The first fly is the micro egg. This is tied on a size 26 Gamakatsu C12-BM, with a 1.5mm gold tungsten bead, Veevus 16/0 white thread, and Shrimp Pink ice dub. I also tie this with a pink 1.5mm tungsten bead and fluorescent pink Senyo Laser Yarn.

The Gamakatsu C12-BM is an amazing little hook. It is made in size 26, 28, and 30 yet has a much bigger eye (probably equivalent to a size 18) which makes it much easier to tie one to the tippet, especially with aging eyes. I used to have trouble keeping fish hooked on small hooks, but not with these!

Unfortunately, I don't have the size 30 UKB at hand to photograph, as I'm doing this on my break at work. I've added a vise to my desk to take advantage of lunch break time to crank out flies so the only ones I have at hand are ones I've been tying here.

However, the recipe is very simple: Gamakatsu C12-BM size 30, red Veevus 16/0 thread, and I separate the strands of Shetland Spindrift Oyster yarn, and use only one strand, tightly twisted.

The second fly is the Stewart Black Spider, tied on a size 20 Firehole Sticks 413. I tie it just like WC Stewart did: lay down a layer of black Veevus 16/0 thread toward hook bend. Tie down Starling feather by the tip, twist feather around thread, then wind forward. It is not a pretty fly by any stretch of the imagination. The fish do not seem to care one bit that it's an ugly mess.
---
"The bitterness of poor quality remains long after the sweetness of low price is forgotten" - Benjamin Franklin
"Be sure in casting, that your fly fall first into the water, for if the line fall first, it scares or frightens the fish..." -
Col. Robert Venables 1662
As age slows my pace, I will become more like the heron.

---
Warning:
The hooks are sharp.
The coffee's hot.
The fish are slippery when wet.
Beware of the Dogma

---