I have gotten emails from several customers concerned that their packages have been lost because they are late and/or tracking data shows them to have been in the Jersey City sorting facility for days.
Those packages are now moving. Most have been delivered already.

Please understand that shopping online this year has been unprecedented, and the USPS, UPS and FedEx are trying to run beyond their capacity. In the 10 years I have been shipping packages, (thousands and thousands of packages), the USPS has NEVER lost a Priority Mail package, and has lost only two or three First Class packages. Please be patient. Your packages will arrive.
---
Fishing, Not Catching
by John Evans
(San Antonio, TX)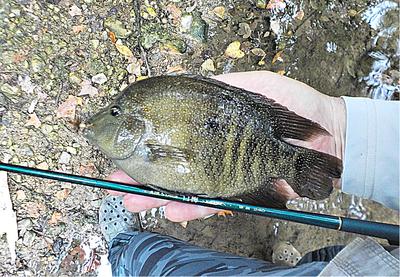 Unlikely Trio: Texas Cichlid, Nissin Air Stage Hakubai 240, Size 14 Yellow Humpy
As the saying goes, there's a reason why they call it fishing and not catching. Some days are dry and disappointing. No matter what you throw at them, the fish won't bite. Other days, you can't help but catch a bunch. Every fly is golden, and every pocket of water is productive.

You never know because there are too many variables. One kind of outing helps you to appreciate the other, and all days on the water make a tapestry of enjoyment. Anglers are endlessly optimistic.

For example, the other day I visited Cibolo Creek in Boerne, Texas, after a string of 100+ temperatures. Frankly, it wasn't my best outing. The water level was low, and the stream was scuzzy with moss, turtles, snakes, and mosquitoes. I knew I should have traveled to a bigger river somewhere.

But, I kept plugging away. I was fishing a size 14 Yellow Humpy with the Nissin Air Stage Hakubai 240, which is as light and soft as a butterfly's breath. Cast, cast, cast . . . a little red breast sunfish here, maybe a tiny bluegill over there. Kind of boring, not much happening. The fish obviously weren't rising to a floating fly with any enthusiasm. Plus, the Hakubai doesn't cast a Humpy well. The upright wings of the fly catch too much air for the rod's soft action. I was being obstinate even trying that fly.

So, I got ready to leave and made one more cast up against a stump. Wham! Something engulfed the Humpy with relish and immediately dove for a deeper pocket of water. Fortunately, I had room to wade and play the fish, and I finally landed the nice Texas cichlid above. That is NOT the size of fish you are supposed to pursue with the micro Air Stage, but it worked out okay.

Plus, cichlids NEVER take a dry fly. They always feed on the bottom, and I always catch them on live bait or dark, weighted nymphs. A Yellow Humpy is the exact opposite fly you should use if you're pursuing this species.

But not this one. As I said, you never know what the next cast will bring, and you can never be certain how fish will react.

You just stay after it and learn to appreciate the day, with its fun and frustration. After all, they call it fishing, not catching.

---
"The bitterness of poor quality remains long after the sweetness of low price is forgotten" - Benjamin Franklin
"Be sure in casting, that your fly fall first into the water, for if the line fall first, it scares or frightens the fish..." -
Col. Robert Venables 1662
As age slows my pace, I will become more like the heron.

---
Warning:
The hooks are sharp.
The coffee's hot.
The fish are slippery when wet.
Beware of the Dogma

---