First fish.
by Dave
(Baton Rouge )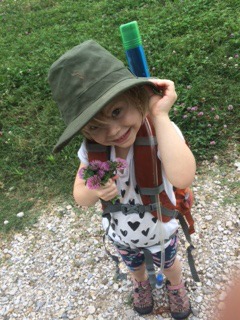 Picking Flowers.
There was a time when the world of fishing was new to me. A time when everything was fresh, like the smell after a spring rain. That feeling is inexplicable and hard to recreate, however, today it has happened again.

Two years ago my oldest child Adelaide turned three and I begged my wife to let me get her a tenkara rod. After all I had recently come to Tenkara and I believed it's simplicity would allow a child to learn with ease. Mind you this was before I found this site and when I used to get my gear from those other guys. But as I am fond of saying, it doesn't matter how you come to tenkara, as long as you come to it.

Back when I was a kid I remembered my dad used to sit there and watch us fish. He would always rig our poles and bait our hooks, but never fished himself. I would often ask him to join us and he would just say his enjoyment was watching us. Fast forward several years to where I found tenkara, keiryu, and ultra light worm fishing. It should be noted that I have taken Adelaide fishing several times, unsuccessfully. Ultimately the trip ends with Adelaide bored and me trying to fish (also unsuccessfully), but instead I just end up putting out the fires of an unsupervised then four year old with a tenkara rod.

Today, I became wiser and promoted myself the designated rigger as was my Dad and the trip was very different. One instead of using flies we used worms dug up from our yard which was fun in itself. We hiked in to my creek where I have had good success in the past and proceeded to rig up her pole with an ultralight worm fishing rig. 3 minutes in, BOOM first fish ever!!! She surprised the fish and muscled it right up! Even though it was on the small side, we kept it, because she loves fresh brim and crappie. Thirty minutes later 6 fish total, an unfrustrated dad (me), and a beaming kid.

Today, I realized I will have time to fish on my own with my friends. Today my role was teacher, mentor, and encourager. Today we (my daughter and I) both experienced fishing for the first time again.
Return to Your Tenkara Stories.
---
"The bitterness of poor quality remains long after the sweetness of low price is forgotten" - Benjamin Franklin
"Be sure in casting, that your fly fall first into the water, for if the line fall first, it scares or frightens the fish..." -
Col. Robert Venables 1662
As age slows my pace, I will become more like the heron.

---
Warning:
The hooks are sharp.
The coffee's hot.
The fish are slippery when wet.
Beware of the Dogma

---