Fine Mode Kosansui
by Jimi Fly
(Somewhere in Missouri )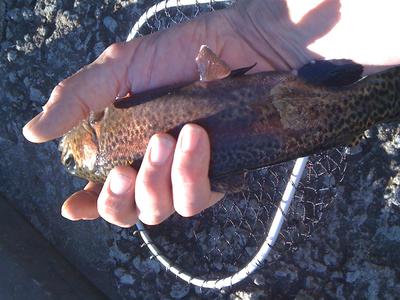 Pretty Pellethead
Took my new Fine Mode Kosansui 450 out to fish my local stocked spring. There were a lot of fish stacked up everywhere, some big some small. I got a ton of fish to chase my kabari but only one taker in 4 hours. I landed this one and hooked and lost another 4.

This rod is way bigger than I thought. As with most of Tenkara Bum rods big or small landing fish never seems to be a problem. I've caught big trout on Kiyotaki's and tiny chubs on the longer rods. Fine Mode Kosansui is a very nice super long rod. It's a bit on the heavy side but I had no problem casting it all day one handed. The fish I did land put a nice bend in the rod but there was a ton of reserve power from the feel of it.

The tip section on Fine Mode Kosansui is very thin and sensitive, almost unbelievably thin. Compared to my Kiyotaki I think the tip on the Fine Mode is thinner.

I have to say all the fish I hooked were hooked by sight rather than feel, which at 30 or so feet gets a bit difficult. I just had trouble feeling takes with all that line out there. I fished a line that was way too heavy and even tried some pretty large bead heads on it and there didn't seem to be any problem with the added weight.

I would say after casting 23 feet of line with it that 30 feet would be possible. I'm not a big rod or a long line guy but the Fine Mode Kosansui is an awesome piece of machinery. I can't wait to take it out on some lakes this summer with a floating line it should excel. I also spent a good part of the day casting dry flies with a long line and this rod just lays them out there like........well, like flies.

Thanks again Chris for yet another great rod.
Return to Your Tenkara Stories.
---
"The bitterness of poor quality remains long after the sweetness of low price is forgotten" - Benjamin Franklin
"Be sure in casting, that your fly fall first into the water, for if the line fall first, it scares or frightens the fish..." -
Col. Robert Venables 1662
As age slows my pace, I will become more like the heron.

---
Warning:
The hooks are sharp.
The coffee's hot.
The fish are slippery when wet.
Beware of the Dogma

---