Covid-19 Announcement
TenkaraBum.com is located in New York City, which is essentially locked down.
Package pickup has been suspended. My neighborhood post office is closed. I go outside as little as possible because I am in an "at risk" group.
TenkaraBum.com is still open, for now. Next shipments tentatively scheduled for Wednesday, April 8 (rain in the forecast).
Most international flights have been cancelled, so there is no ETA for out-of-stock items that come from Japan.
---
Finding All the Fishes
by Alan L
(Kansas City)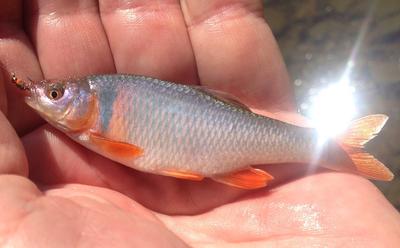 Red Shiner
I had a lot of fun with the Streamer Challenge last summer and fall. I want to thank Chris for organizing and officiating the contest.

First, I'm lucky to live in a pretty fishy area.The Missouri and Kansas rivers meet at Kansas City with a lot of small tributaries flowing down through the bluffs. The Ozarks are only a few hours away to the east and south. If someplace has water year round there are probably fish in it. I've found that everything from small suburban drainage creeks, to park ponds, flood impoundments, reservoirs, rivers and everything that connects them has fishing living it. Break each site down by the basic rules of fishing-- look for moving water, structure and holes.

For the Challenge I started with what I knew and made a list of species and where to find them. My local starting points were the lime stone creeks in the Kansas suburbs. They're beautiful, fairly clear and easily accessible by bike trials. Mill and Tomahawk creeks provided three species of sun fish, a Large mouth Bass,Creek Chubs, a Channel Cat and two different shiners. Indian creek produced a Black Buffalo, Shortnose Gar and numerous uncaught carp.

These were the usual suspects that are always available. To grow the list I started targeting specific places for specific species that I knew where there or should be. The James A. Reed Conservation Area had Redear Sunfish and crappie, the Rocky Ford Area out in kansas had wipers and a surprise Goldeye. A literal wide spot between two lanes of traffic had Golden Shiners washed down from a neighborhood pond.

My big local discovery (local= 1 hour drive) was the dam face at Hillsdale Reservoir, see "Another Shoreline". A fly club friend tipped me off and I caught numerous Freshwater Drum, a White Bass and a WALLEYE!

The local count ended up in the high teens. To move beyond that required road trips. I planned these around the trout parks and conservation areas I was familiar with in southwest Missouri. All these areas have rich ozark streams with lots of species (plus trout), but targeted planning is a must.

Many small species are drainage specific and it's necessary to identify the right watershed for the different fish. The best examples are Cardinal, Bleeding and Duskystripe Shiners. They are very similar but will never be found together. Cardinals are in the Shoal Creek drainage running west and then south to the Arkansas. A few miles to the east Dustkystripe Shiners are common in water draining south to the White River. Bleeding Shiners are widespread just to the north in the Osage drainage which flows north to the Missouri. Hornyhead Chubs in the Missouri drainage and Redspot Chubs in the Arkansas are nearly identical fish, the difference is where you catch them.

After the standard stuff species equals micros. Establishing a comfort level with tiny flies is a must. By the end of the contest I had developed a standard small fish setup for prospecting new water. Using White Killer Buggers I would work the entire area with a size 20 on either the Soyokaze27 or the Badger UNC. This would locate larger shiners as well as sunfish, chubs and small bass. When a school of normal size shiners was spotted I would switch to the Kurenai HM30R with a size 26 plus a #6 shot. This is a good all around shiner setup and will catch most fish down to about 2 1/2-- 3inches. For the smallest fish I used a size 30 fly with a #10 shot on the Kiyotaki 18 and a short line. This is close range sight fishing, placing the fly in front of the fish and anticipating the take.

Other than my micro rod collection my rod choices were very simple. I used the Diawa Kiyose 53M a lot. If the water was open the length was a plus, if the fish was big I had the power to land it. I used it for the Drum, Buffalo, Gar, Walleye, Smallmouth and two big trout. For flexibility on the in between fish and water the Suntech Keiryu Special GM39 took care of everything else. I tended to rig heavy--catch the fish, don't lose it. Since the Challenge finished the Zereosum has come back out.

While sticking to what I knew for most of the species I did make some nice trips to new water. A family wedding in Northern Michigan allowed me to spend a little time in the Betsie River for a common shiner as well as some rainbows and chubs. My favorite close new place was the National Tallgrass Prairie Preserve in the Flint Hills where I got some some new micros in tiny clear prairie streams.

The best unsuccessful fishing was while I was in Utah for the Oni School. I spent three hours on a extremely windy morning high in the Wasatch Mountains trying to catch Bonneville Cutthroats out of a tiny overgrown stream. I eventually caught two fish but I went through eleven flies and the streamers ran out at about number five.

The Streamer Challenge provided the focus and inspiration to review and revisit all the fish and places I've discovered in the last four years. Spring is here and it's time to get out the maps and satellite pictures to find the new water and new fish, but perhaps with lighter rigs and a more relaxed attitude.
---
"The bitterness of poor quality remains long after the sweetness of low price is forgotten" – Benjamin Franklin
"Be sure in casting, that your fly fall first into the water, for if the line fall first, it scares or frightens the fish..." Col. Robert Venables 1662
As age slows my pace, I will become more like the heron.

---
Warning:
The hooks are sharp.
The coffee's hot.
The fish are slippery when wet.
Beware of the Dogma

---