Favorite Four
by John Evans
(San Antonio, TX)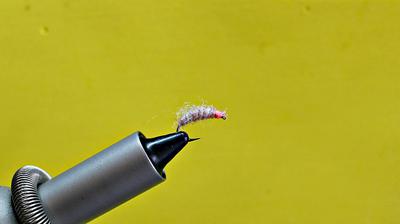 Utah Killer Bug
I'm not a "one-fly guy," but I am a "small-handful-of-flies guy." Since the TenkaraBum website allows the uploading of four images, I thought I'd share the four flies that I use 90% of the time and which seem to be most effective in my Texas warm-water angling. I hope that other tenkara anglers will share their favorite flies. In this way, we can all learn something.

If I could only carry four types of flies with me on a typical tenkara outing, what would they be? Not surprisingly, three out of the four are nymphs, and all four are simple patterns that are easy for yours truly to tie. Hey, if I'm going to tie it, then it has to be super-simple! All four of these patterns cast easily with tenkara rods and work well in a variety of circumstances.

The first pattern is the reliable Utah Killer Bug, or crane fly larva imitation. Indeed, if I could only fish one fly, this would probably be it. I usually put down a few wraps of .015 wire to help it sink, cover it with pink thread, and finish with a body of Jamieson's Shetland Spindrift Oyster yarn. I typically use a size 12 or 14, Daiichi 1120 hook, and it seems to help if I fuzz up the body with a piece of Velcro when I'm finished. How can something so simple, be so effective?

Next is my variation on a Czech Nymph pattern, which I call the "Shaggy Possum". Again, the hook of choice is a Daiichi 1120 hook in size 12. I use 8 wraps of slightly-heavier .020 wire and cover the hook with red thread. I heavily dub on black possum fur for the back and red possum dubbing for the head. Finally I cover the back of the nymph with clear or red Wapsi Thin Skin and wrap the body with monofilament for the segmented look. This fly is a real winner in deeper water for such species as Texas cichlids and even channel catfish. Just bounce it along the bottom and see what happens. Sometimes ugly flies work!

Third is Herb's Black-Thread-and-Hen, which I've written about before. I guess mine is a Black-Thread-and-Rooster since I usually use dry fly hackle. I push six or seven wraps of .015 wire to the back of a size 14 Daiichi 1120 hook and cover with black thread. I palmer two or three wraps of hackle on the front half of the hook and often tie a red collar behind the hackle. This simple, classy fly is especially effective for panfish. Thanks, Herb!

Finally, I don't often fish dry flies, but—when I do—the black foam beetle works well. The beetle is simple to tie and use, and there's something special about seeing a fish explode on the surface.

I fish all four of these flies very simply. For the nymphs, I typically cast across stream, let them sink to a count of five, and then slowly lift them to the surface, with maybe one or two twitches. The most common mistake I make is over-working the flies. On the foam beetle, I cast, let it land and sit, then twitch just once or twice. Again, too much twitching is a turn-off!

I fish all four of these flies with confidence, and that's a big part of the game. If you think you're going to catch a fish—and stay after it—you usually do. These four flies catch panfish, largemouth bass, catfish, Guadalupe bass, and stocker Rainbows—in other words, just about all of the common, catchable species in my fresh waters.

I wrote this brief article for two reasons: First, I'd like to compare my four flies with the selection from other anglers. Comparing fly patterns is a cool hobby, and who doesn't enjoy seeing flies used by fishermen in other parts of the world?

Second, I always like to encourage tenkara anglers to tie their own flies. I had never tied a fly until I was past 50, and I'm not very good at it, but the fish don't seem to care. It always amazes me that they'll strike a bit of yarn and feather, clumsily tied, if it's fished right. The first flies that were ever tied were probably fairly crude affairs. As my wife puts it, "Some flies catch fishermen and some catch fish." These simple flies work for me.

There are few pastimes more enjoyable than bringing a fish to hand on a fly that you've tied yourself. What are your favorite four?

---
"The bitterness of poor quality remains long after the sweetness of low price is forgotten" - Benjamin Franklin
"Be sure in casting, that your fly fall first into the water, for if the line fall first, it scares or frightens the fish..." -
Col. Robert Venables 1662
As age slows my pace, I will become more like the heron.

---
Warning:
The hooks are sharp.
The coffee's hot.
The fish are slippery when wet.
Beware of the Dogma

---