Ebira Rod Quivers

The Ebira, Ebira Plus and Ebira Guide are no longer available.
The Ebira rod quivers ware designed by TrailLite Designs, which appears to be out of business.
---
The Ebira (Japanese for "quiver") is really quite similar to an archer's quiver. It has an adjustable cord so that you wear it over your shoulder. It holds your tenkara rod, leaving your hands free for trekking poles or for climbing or photography - or just free. In addition to the sleeve that holds your rod, the Ebira also has a small, detachable pouch that will hold flies, lines, tippet, nippers, forceps, etc.
The pouch can be attached to either side of the sleeve, so no matter which shoulder you sling the Ebira over, the pouch is conveniently at your hip. If you are backpacking, the detachable pouch has a strap that will fit around one of your shoulder straps, making it about the smallest, lightest "chest pack" there is.
It also saves digging into your pocket and possibly dropping something that comes out by accident when you retrieve something you want. That has happened to me at least twice. Once was a very difficult to replace tip plug for a borrowed rod and the other was an electronic card "key" required to unlock the doors of a rental car. The tip plug was never found. The key card was miraculously found relatively quickly but it could have fallen out in any of a dozen places were I stopped to change lines, tippet or flies. Had I dropped it anywhere but where I actually did, I probably never would have found it. Having a convenient place for the small fishing items you must access regularly keeps your other items safely tucked away.
One of the best things about the Ebira is that if you are using the Fuji EZ Keepers for line management when hiking in or moving to a new spot, the fully rigged rod can be carried in the Ebira, ready to go at a moment's notice. Set up time is seconds - literally. More than that, though, the Ebira keeps your fully rigged rod safely away from brush and branches that can catch the line wrapped on your EZ Keepers and break your rod tip. (That actually happened to a friend who luckily had a spare rod with him. It could have ruined the trip had it been his only rod.)
The Ebira will hold the minimalist fly box that TenkaraBum flies are mailed in, along with nippers, a small tenkara line holder, a few Hi-Vis fluorocarbon lines, a Tip Grip, forceps and and a couple spools of tippet. What else could you need?

---
Ebira Guide

The latest Ebira from TrailLite Designs. The Guide has two rod sleeves, each of which is wide enough to fit two rods (one grip down and the other tip down), giving it the capacity to hold four tenkara rods. It also has two separate gear pouches and a wide shoulder strap rather than just a cord. Designed specifically for guides, who are now beginning to offer guided tenkara fishing trips, and who may need to supply gear for two or more clients, it will also be useful for family trips or fishing trips where you know your buddies are going to want to try tenkara when they see you catching all the fish.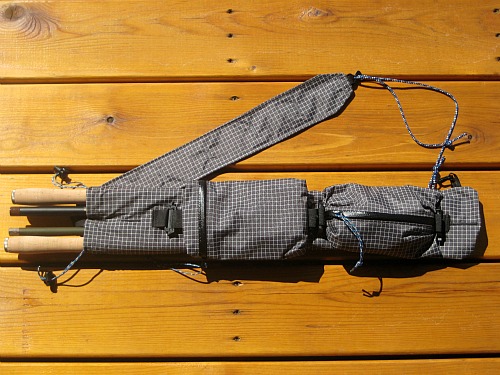 And, for people who just can't get by with a couple dozen flies in a Minimalist Box, with two larger gear pouches, plus the ability to put one of them on the shoulder strap for an easily accessible mini chest pack, the Ebira Guide is a very realistic option.
---
TenkaraBum Home > Tenkara Accessories > Ebira Rod Quiver


---
"The bitterness of poor quality remains long after the sweetness of low price is forgotten" - Benjamin Franklin
"Be sure in casting, that your fly fall first into the water, for if the line fall first, it scares or frightens the fish..." -
Col. Robert Venables 1662
As age slows my pace, I will become more like the heron.

---
Warning:
The hooks are sharp.
The coffee's hot.
The fish are slippery when wet.
Beware of the Dogma

---