Dreaming of Spring
by Les Albjerg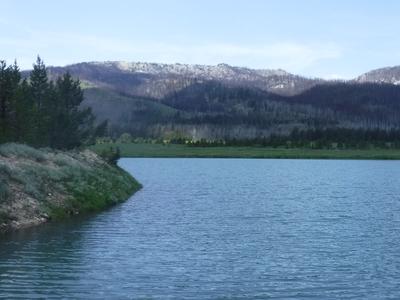 One of my favorite ponds
In my last blog entry, I was challenged about catching lots of Sunfish in the colder water. I would like to share some of my techniques and methods to get an early start on Panfishing. I looked in my Diary from last year and my first "over 50 fish" was on March 17th last year. I actually waded out until the water was between my knees and thighs. I fished the Suntech FinePower 56 at both lengths, and then switched to the Suntech Keiryu Sawanobori 63. Much more on why later.

The first secret is a bit of a no brainer. You have to know your pond. The pond I fish early has a very shallow bay. It is knee deep to waist deep, and then there is a nice drop off to about 18 feet. It is a gravel, sand, weed bottom and easy to wade. My secret weapon is an I-Bobber. (picture 2) Clip the I-Bobber to the end of your line, and look for fish! (The I-Bobber is a small castable floating wireless sonar fish-finder that will send the readout to your iPhone.)

What depth are they suspended at? Once you find them and know the depth, it is time to use the next special tool, the Nakazima Ball Floats 5/8 inch model. I am fishing with a Red Wiggler and at least one BB size split shot. I may use a bit more weight depending on the wind. Set the length of the line to hook where you have found the fish suspended, and then simply fish your awesome Keiryu or Tenkara rod like a Cane Pole! It is that simple and so much fun!

So on the day I had in mind, I started on the left with the Fine Power set at 5.2 meters and worked my way across in an arc catching fish all along the way. I then extended the rod to 5.6 meters and did the same thing again! It was very easy to collapse the Fine Power, put it in my Zimmerbuilt, and pulled out the Sawanobori and fished it across at 6 meters. It was over a 100 fish day!

Lots of fun, relaxing fishing! It would make Paul and J.P. of Tenkara in Focus shudder, but boy is it action filled and a blast!
Return to Your Tenkara Stories.
---
"The bitterness of poor quality remains long after the sweetness of low price is forgotten" - Benjamin Franklin
"Be sure in casting, that your fly fall first into the water, for if the line fall first, it scares or frightens the fish..." -
Col. Robert Venables 1662
As age slows my pace, I will become more like the heron.

---
Warning:
The hooks are sharp.
The coffee's hot.
The fish are slippery when wet.
Beware of the Dogma

---