December Trout on the Soyokaze
by Tim
(Ohio)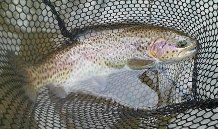 First tenkara fish on the Soyokaze- A 14" rainbow
I first heard about tenkara on a traditional bowhunting website. A couple of guys were talking about packing a tenkara rod in their back quiver while hunting in the mountains. I spent the next three hours that night researching tenkara and knew I was hooked without so much as a cast!

After about a month of research, I decided to order my first tenkara rod. The TenkaraBum review of the Soyokaze had really peeked my interest. There are quite a few small creeks around my house and several nice little trout streams within an hour or two drive. The Soyokaze seemed like a perfect match for these creeks and an easily affordable way to try out tenkara fishing.

I ordered the Soyokaze, #3 level line, and some 6x tippet from TenkaraBum on November 28th and had the package in my hand on the 30th. Chris had included a length of #4 level line and a tip grip pad with the order along with a hand written note. Quite a nice touch!

The next morning I headed over to a little trout stream in Western PA that has a project area open to year round catch and release trout fishing. I have to admit to being quite amused at the little stick in my hand and just enough gear to fit in my wader pocket as I walked to the creek. Normally I fish this creek with a 8' 3wt, a backpack, and a chest pack full of gear.

I decided to set the rod up for the first time on the creek. It didn't take too long to realize having a line holder would have made the process much easier. I peeled off 8 1/2 feet of level line, added 3 1/2 feet of 6x Varivas tippet, and tied on a size 14 olive soft hackle.

At first I thought the rod felt clunky but I soon realized I was putting too much power into the casting stroke. The light tip on these rods requires very little effort to lay out the line and fly. Once I stopped using my thumb to power the cast and started using my index finger, everything smoothed right out.

This section of the creek averages about 40 feet wide and at times feels tight when fishing with my 8' 3wt. I was surprised to find the 9' Soyokaze almost felt too small. The water could have easily been fished with a 12' tenkara rod and I found myself wanting an extra foot or three feet of rod length. Tenkara rods just do not seem to require the same space to cast as a fly rod.

All of the fish in the creek seemed to be hiding and I was beginning to think my first tenkara outing was going to be fishless. I was getting lost in the fun of fishing something new, when the flo orange level line shot straight. I set the hook into my first tenkara fish, a nice 14" Rainbow. The fish made two fast runs and the rod easily handled the surge with plenty of power to spare. You'll soon realize how much of the feel of the fight is lost in the weight of a conventional fly line. It's a lot of fun to use the rod as the drag on these fish instead of the fly line and reel.

The day ended with another 14" Rainbow and two Suckers that were each about a foot long. The Soyokaze provided me with my first taste of tenkara and created a new outdoor addiction. I don't think I was home an hour before I was back on the computer looking for the right longer rod that can cast a heavier line for some of the bigger creeks. I've already got visions of Smallmouth sucking Sneaky Petes and Wooly Buggers along the river banks this spring...
Return to Your Tenkara Stories.
---
"The bitterness of poor quality remains long after the sweetness of low price is forgotten" - Benjamin Franklin
"Be sure in casting, that your fly fall first into the water, for if the line fall first, it scares or frightens the fish..." -
Col. Robert Venables 1662
As age slows my pace, I will become more like the heron.

---
Warning:
The hooks are sharp.
The coffee's hot.
The fish are slippery when wet.
Beware of the Dogma

---