Dark Kebaris Ascending
by Alan Luecke
(Kansas City, MO)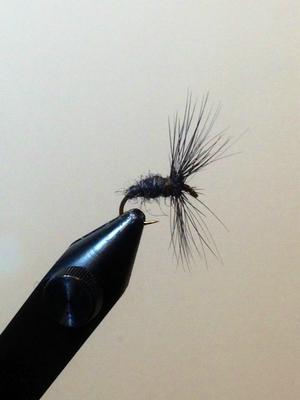 Mucho Kebari
I've been wanting to share a fly variation I've been tying, and with Dark Kebaris now being mentioned in the last several posts the time has come. I've frequently mentioned the clear streams that are available around Kansas City but the fact remains that this isn't the mountains. Even the best places are frequently cloudy, either from runoff or algae. Hence, black flies are often the order of the day.

Over time the subtle Little Dark Kebari has turned into a big rough wooly bugger kebari, the Mucho Kebari.

It started when I wanted a black kebari and the only hackle on hand was black rooster hackle. I found the smallest feather and tried to tie it small. It worked OK but when I got lazy and tied it big it worked even better.

The current setup is a black size 10 Gamakatsu SL45 Bonefish hook (a favorite of the local carp hunters), wrapped with lead wire and finished with Dark Kebari wool and a big bushy black rooster hackle secured with black or brown thread.

This is the fly I mentioned in the previous "First Year On The Fly" post (and the picture). It really came into its own wading in warm cloudy streams. The weight will take it down to the bottom and let it be bounced along like a Wooly Bugger. Pulsed in mid column it is very effective, although it may give up something to a soft, flexible hackle. On the other hand, bass seem to like the big leggy shape. The big surprise has come on the surface. The surface area of that big stiff hackle will resist dropping through the surface tension for nearly two seconds. Combine this with a short lined rig and the fly can be easily held on top and worked like a hopper. It can even be skidded across the surface like a mini buzz bait.

This flexibility makes it a great fly for warm water with many different species. I suspect there are trout that would like it too but I haven't had the chance to try it yet.

I just bought some starling hackle and will try to do a one on one trial: subtle flex versus the stone ax. Regardless of the outcome this has become a standard fly in the box.
Return to Your Tenkara Stories.
---
"The bitterness of poor quality remains long after the sweetness of low price is forgotten" - Benjamin Franklin
"Be sure in casting, that your fly fall first into the water, for if the line fall first, it scares or frightens the fish..." -
Col. Robert Venables 1662
As age slows my pace, I will become more like the heron.

---
Warning:
The hooks are sharp.
The coffee's hot.
The fish are slippery when wet.
Beware of the Dogma

---