Daiwa Enshou LL36SF for the win!
by Craig
(Iowa)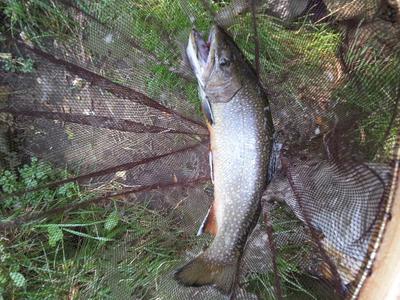 12-13"
Decided to make a quick run that turned into a long journey. Ran to a place about 30 minutes from home and find that the 1" of rain we got last night turned into a flash flood and they whole park is under water and looks like chocolate milk. On a whim I decided to head West until I found clear water. After about 45 minutes of driving I stopped at one of the 3 state Trout Hatcheries to check the stream. Clear as a bell so I spent a little bit at the small stream and caught a small Brown and a small Rainbow. After an hour I decided to pack up and drive down to the end of the stream at another park 15 minutes away. The park was crowded so I decided to walk up a bit to a section only available by wading. Caught a small Brown right off followed by another miss in a hard access spot. Decided to wade up a bit more and fish a small set of falls that usually has some fish hiding in the rocks. Sure enough my first cast I saw a flash of a fish and a near miss. Another cast and another flash from the same spot, the third cast I had him hooked for a second and he got off, thinking he wouldn't come back out to play I decided to make one last cast. Success and boy was I in for the fight of my life. He immediately took off down stream through a set of riffles and around a bunch of large rocks, I ended up in the stream trying to coax him back with no luck. He made another run down stream which put me into flight mode having to cross a hi flow section of the stream about knee deep and lots of large and small rocks that are very loose. I finally got across without him coming off and made a dash past him down stream on the bank and after a few more minutes was finally able to land him bank side in the net. After a couple of quick pictures I released him back to the waters from which he came to be found another day. I'm sure the next person will probably eat him, but I prefer to fight and let live for another day.
Return to Your Tenkara Stories.
---
"The bitterness of poor quality remains long after the sweetness of low price is forgotten" - Benjamin Franklin
"Be sure in casting, that your fly fall first into the water, for if the line fall first, it scares or frightens the fish..." -
Col. Robert Venables 1662
As age slows my pace, I will become more like the heron.

---
Warning:
The hooks are sharp.
The coffee's hot.
The fish are slippery when wet.
Beware of the Dogma

---