Crane Creek: Knowing vs. Doing
by Alan Luecke
(Overland Park, KS)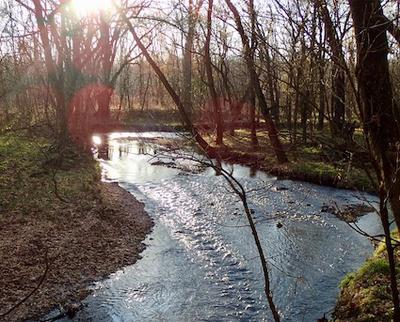 Crane Creek, MO
We're at an interesting point in American Tenkara. After ten years, Tenkara is widely known in the fly fishing world, has attracted enthusiastic participants and spawned many fixed-line variations for non-trout species. Yet after a decade many of us find ourselves to still be discovering the sport we thought we knew.

Chris Stewart's recent post "Longer Line Tenkara" mirrors my own experience. I bought a rod and line and started tying Killer Bugs and catching fish. It was great fun. What else did I need to know? And since I usually fish alone there was no one to tell me different. Then an unexpected thing happened, I started meeting people who where as enthusiastic about Tenkara as I was. First at a Summit then at various Jams, Fests and Campouts. I found myself a part of a wonderful community that has come to mean as much to me as the fishing.

In spite of my proximity to so many incredible fishers I continued to do things in my own way, figuring it out as best I could. This began to change when I attended the Oni School put on by the Tenkara Guides. The first year I was overwhelmed by the whole experience; the scenery, the Provo, the great camaraderie and most of all the seemly magical technique of Masami Sakakibara (Tenkara no Oni). The one bit of technique that I came away with was an understanding of the basic Oni style cast which uses the shoulder and elbow more than the wrist. I couldn't do it, but I began to understand.

I returned two years later and to my surprise was told my casting looked pretty good. The second surprise was that casting long lines is much easier with good technique. Despite this I went home and returned to shorter lines because they're easier to handle and I'm lazy.

I attended my third Oni School this past summer and I think of it as the year of the Kebari. With my casting and line control working fairly well, my mind was apparently ready to think about what the fly was doing in the water. It's odd how one can hear something many times and acknowledge it's validity without ever actually using the information. This year the lightbulb went off -- the resistance of the hackle allows the control and manipulation that makes the whole system work. Part of this process is just time and experience. After watching Oni for the third year, and within the context of my own improved technique, I could now "see" what he was doing. It was no longer magic, just amazing.

I came home and tied a bunch of Kebari and made up long lines in several weights. I was a believer and I was ready and I headed off to Crane Creek.

Crane Creek is a semi-famous spring creek in Southwest Missouri that has a wild population of McCloud Rebands and has not been stocked since the first trout where dumped in 139 years ago. It's small, tight and not the best place for a long line - and the fish often hang in deep holes and can only be reached with weighted flies.

Still, I was game. I started in an open area by a park with a 7 meter 2.5 line on the TB 40.

I have cast this set up successfully -- in my front yard, on a calm day. This was not a calm day. It just didn't work in the wind. Later I practiced with 7 meters of 4.5 on the Oni Zerosum 450. This worked. It was wonderful to reach out across the water to the far edge that, unfortunately, held no fish.

The TB 33 is a good choice for Crane, but I often find myself using the Traveler 39 rigged at 32 and then extended when the canopy permits. The creek was in excellent shape; clear and wadable but high enough to have active riffles between the holes.

Catching wild trout in moving water in small streams is my favorite thing, regardless of their size. The little guys did not disappoint. The day's big fish was 7"-8" and most were 4"-5", great fun and nearly 30 fish. And yes, I caught fish on Kebari, but also Killer Bugs and Perdigon nymphs. Pretty much anything worked as long as it was red.

The next day I stopped by Hickory Creek in Neosho, MO on the way home. This is a stocked spring creek that runs through a city park. I was looking forward to fishing one particular section where a gravel bar sits across the channel from a rock ledge. There are always visible fish hanging by the rocks. Across and down, time for some true Tenkara. I spent an hour casting, pulsing and twitching my Kebari and being the best Oni student possible. I did not catch a fish. I put on a Spindrift Sunset Killer Bug and caught a trout on my first cast. I worked my way back down the water I had just fished and caught four more in twenty minutes before I had to leave.

Fishing is often a humble business. I'm still excited and the Kebaris are absolutely staying in the box, right next to the Bugs. Just keep fishing.
---
"The bitterness of poor quality remains long after the sweetness of low price is forgotten" - Benjamin Franklin
"Be sure in casting, that your fly fall first into the water, for if the line fall first, it scares or frightens the fish..." -
Col. Robert Venables 1662
As age slows my pace, I will become more like the heron.

---
Warning:
The hooks are sharp.
The coffee's hot.
The fish are slippery when wet.
Beware of the Dogma

---