Cichlid Redux
by John Evans
(San Antonio, TX)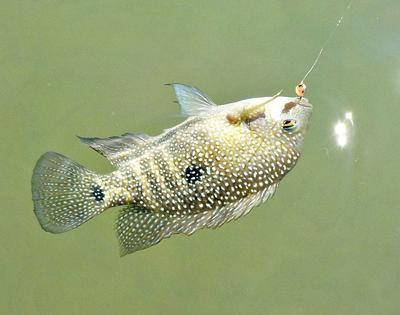 A Nice Rio Grande Perch, or Texas Cichlid, in the Blanco River
According to my Random House Dictionary, "Redux" means "brought back or returned from a distance." Some months ago I wrote an article for the TenkaraBum blog about Rio Grande Perch or Texas Cichlids (Herichthys cyanoguttatus), and I'd like to revisit them. These grayish, turquoise-colored, slab-sided fish are related to the tilapia that you buy in the stores to eat. The range of Cichlids is expanding, and they add variety and an interesting challenge to our sport.

Rio Grande Perch are strictly warm water fish, plus they favor slower streams and can tolerate lower-quality water. Because of this, you will often find them in urban creeks that may be warmed by surrounding asphalt and concrete. Semi-stagnant water is just fine for them. They love to lurk in deep holes near the bank, underneath brush or around other structure. Warm water outlets, irrigation canals, flooded ditches, and backed-up creeks are all prime habitat.

Because of their long dorsal fins and thick "shoulders," they put up quite a fight on light tenkara or seiryu rods. In fact, some of the best battles I've had have been with half-pound Cichlids on my Nissin Air Stage Hakubai 240. Use light tippet or you may bust your rod! (The Texas state record is just over 2 pounds.) I usually cast dark-colored nymphs around the brush, let them sink to the bottom, and then slowly work the nymph to the surface. Live worms also work well. I've also caught quite a few Cichlids on dark-colored elk hair caddis patterns if I can locate the fish in shallow water.

Rio Grande Perch usually take the bait softly, perhaps just mouthing the fly. On average, they do not strike as aggressively as bluegills or yellow bellies, but they pull harder. Once hooked, they only know one direction to go—and that's STRAIGHT DOWN!

I thought readers might enjoy the above photos of Cichlids that my wife, Robin, and I caught in urban streams and rivers. On ultralight gear, they present a nice challenge. Glamorous? No . . . In fact, they're sort of the anti-trout, prehistoric-looking but with their own brand of beauty. The breeding males have those big hump-shaped heads.

One of the benefits of tenkara fishing is that you can often target species that are overlooked by other anglers. In fact, Cichlids illustrate just how diverse tenkara angling can be in the United States. In this era of increased fishing pressure, that's a huge benefit. Most of the slower, southern stretches of rivers and creeks in Texas have a good population of Cichlids. Cibolo Creek in Boerne has some truly trophy-size specimens. If you have Rio Grande Perch in your area, give them a go.


---
"The bitterness of poor quality remains long after the sweetness of low price is forgotten" - Benjamin Franklin
"Be sure in casting, that your fly fall first into the water, for if the line fall first, it scares or frightens the fish..." -
Col. Robert Venables 1662
As age slows my pace, I will become more like the heron.

---
Warning:
The hooks are sharp.
The coffee's hot.
The fish are slippery when wet.
Beware of the Dogma

---