Bull Trout Encounters!
by Les Albjerg
(Caldwell, Idaho)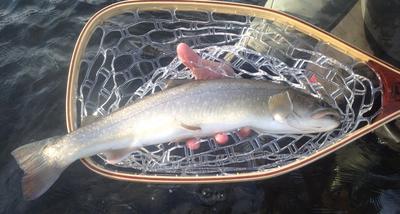 South Fork Bull Trout
Just for you Phillip!
In Idaho you are not allowed to target Bull Trout. They used to call them Dolly Varden trout which is a much nicer name in my opinion. The opening picture is one of two Bull trout I caught on January 27th. I was fishing the South Fork of the Boise for rainbows. I didn't get a picture of the one I caught 3 times. It is a little smaller than this one. So depending on how you count, I caught 4 fish or just 2. I prefer counting it as 4 hook-ups on my Suntech Keiryu Sawanobori 63. I also caught 3 rainbows that day, the largest being 19 inches, but the camera battery had died because I left it on in my pocket! Bull trout aggressively take the fly, and then bury themselves toward the bottom. They are strong fighters, and act more like a brown trout than a rainbow. I was able to control the fishes and keep them away from several logs that they were determined to get to! Bull trout love to ambush smaller fish. All of my Bull trout that day were caught on a Muddler Minnow. It is artificial lures only on the South Fork. I was fishing a heavy stonefly dropper below the Muddler, and an egg pattern above. The Sawanobori casts a 3 fly set-up well. Phillip, almost all of my Bull trout hook-ups have been on streamers.

The second Bull trout is one that Scott my hunting and fishing partner caught on the Salmon River. He was using a spinning reel. It was a 34 incher, and the largest Bull Trout the guide had ever landed on his boat. I would have loved to have had that hit my Kyogi! I don't share all my fishing adventures on this blog, but there seems to be a strong interest in different species, so thus I share another story.
Return to Your Tenkara Stories.
---
"The bitterness of poor quality remains long after the sweetness of low price is forgotten" - Benjamin Franklin
"Be sure in casting, that your fly fall first into the water, for if the line fall first, it scares or frightens the fish..." -
Col. Robert Venables 1662
As age slows my pace, I will become more like the heron.

---
Warning:
The hooks are sharp.
The coffee's hot.
The fish are slippery when wet.
Beware of the Dogma

---