Breaking Down Mental Barriers with an 11' IWANA
by Mike Stanislaw
(Doylestown PA)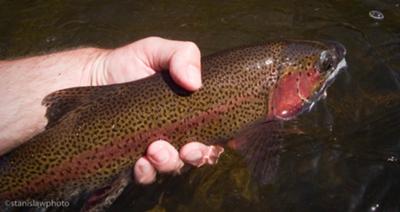 One of the larger fish of the trip
This is a story I've been meaning to write for sometime, and after reading Chris's post about 'Rethinking Rod size', I was motivated to say the least.

I've been Fly Fishing for close to 25 years, and just learned of Tenkara this year with the help of this site. Back in July I was 'summoned' by one of my best friends to be in his wedding in Steam boat Springs CO. Usually him and I go off and try to put some elevation under our butts by climbing mountains, but, by the time I took the flight from PA to CO I was in total Fly fever for the season. I had my trusted 5 wt, and my 1 month old 11' IWANA. What happened on that trip blew me away, and became a paradigm shift in my life long pursuit of fly fishing....Its one I'll never forget.

I hit the Yampa River early, fishing the tail waters below the Stage Coach Reservoir. This is about 40 minutes south of Steam Boat Springs. I would call it a medium size river, with lots of eddys, currents and pockets. The Rainbows were notorious for being quite large, and a bit picky. (At least according to the local guides.)

I started off with my 5 wt trying the usual palette of uber small midges and what nots... There was a few locals but only 1 guy really having much luck. After getting pretty frustrated, I pulled out the IWANA to 'play around'. Trying on a small Caddis, and working the zig zag currents near shore, I hooked into a nice 12" Raindow. Man, did that feel great on the rod. Almost a fair fight. (I will later learn what a fair fight really was...)

So after my initial excitement started to wear off, I started to pick apart the little sections of stream and really fish them hard with that IWANA. It soon turned into sight fishing heaven. The rod allowed me to drift were no traditional line could. Soon enough I caught the attention of one of the larger Yampa residents. Once I overcame the euphoria of having a large fish swipe my fly, I soon sobered up to the fact that I now had him on 6x tipper, and on a rod with no reel, bent almost over in half. It was on, a fair fight. This one ended with him being the winner, but it bestowed on me a tremendous knowledge of what I can, and can not do with this rod. Soon was I able to test that knowledge again, this time on an even bigger fish. After landing this one, which required a very acute sense of tension (and with just a bit of walking down, up, and sideways on the stream) I finally landed what was the biggest fish of my season. An 18" Yampa Rainbow. I soon realized these fish were so used to spotting bad drag, that anything with a perfect drift must be ok to eat.

The rest of the day (and later a second day) produced amazing results (and lots of big fish). That river is custom made for Tenkara. The ability to control the drift, along with feedback in the rod is truly amazing for this guy of 20 years fishing. I'm also in awe at what the 11' IWANA can do with big fish. I'm also in awe of the how its not just for little streams. I have not cast my 5 wt since. Its broken down a lot of mental barriers for me. Also Chris's Tenkara Tapered Fluorocarbon line worked flawlessly and it is still in use, despite all the abuse, thanks Chris!!!

Thanks for reading.
Mike

P.S. The wedding was on a ranch that sported a small stream, and well since the Tenkara rod packed down, why not bring it. It was a first for me, fishing in a tux at a wedding!
---
"The bitterness of poor quality remains long after the sweetness of low price is forgotten" - Benjamin Franklin
"Be sure in casting, that your fly fall first into the water, for if the line fall first, it scares or frightens the fish..." -
Col. Robert Venables 1662
As age slows my pace, I will become more like the heron.

---
Warning:
The hooks are sharp.
The coffee's hot.
The fish are slippery when wet.
Beware of the Dogma

---