Big fish, light rod
by Mark Denovich
(Pittsburgh, PA)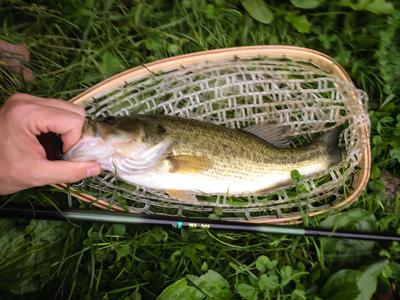 I've been fishing with my Diawa Kiyose 43MF almost exclusively for the last few months... but on a whim I decided to use my Kiyotaki 27. My casting ability has clearly improved greatly with all the practice this summer. It only took a few tries to adjust to the Kiyotaki, and I was soon casting it, with a 10' #3 level line better than I ever had.

My daughter and I were fishing with a size 8 sakasa kebari I tied, in a small local lake. The water is soupy green, and I fish the fly only as deep as I can still see it... 6-12" in this case. I then just work the fly back towards me, twitching it as I go. With limited visibility you really need to be ready for a take... fish just appear out of nowhere, and bluegills will inhale a fly, but they are especially good at spitting it back out if you are slow on the draw.

I was pleased to quickly begin catching bluegill. With the soupy water and little cover, finding the fish can be frustrating. Driving the kebari hard into the water on the cast seemed to help get their attention. My almost 4 year old daughter was having fun landing the fish by hand or net. She even managed to remove a hook and release the fish all by herself. Out of a dozen or more bluegill only one or two were "too pokey" for her to handle solo. (I'm more proud of this than the fish she's caught solo.)

We were about halfway around the lake, when I saw a dark shadow move beneath my fly. A large white circle quickly grew and engulfed my kebari. I had just enough time to think "uh oh!" before my reflexes set the hook into a nice sized largemouth.

Again I was amazed at how well a long-ish ultralight rod can control a much larger fish. After just a few quickly aborted runs, I steered him without much drama into my waiting net. 16" long he was just starting to get wide like bass do when the bulk up.

After my daughter released him she turned and said "Let's catch another big bass, dad."




Return to Your Tenkara Stories.
---
"The bitterness of poor quality remains long after the sweetness of low price is forgotten" - Benjamin Franklin
"Be sure in casting, that your fly fall first into the water, for if the line fall first, it scares or frightens the fish..." -
Col. Robert Venables 1662
As age slows my pace, I will become more like the heron.

---
Warning:
The hooks are sharp.
The coffee's hot.
The fish are slippery when wet.
Beware of the Dogma

---