I have gotten emails from several customers concerned that their packages have been lost because they are late and/or tracking data shows them to have been in the Jersey City sorting facility for days.
Those packages are now moving. Most have been delivered already.

Please understand that shopping online this year has been unprecedented, and the USPS, UPS and FedEx are trying to run beyond their capacity. In the 10 years I have been shipping packages, (thousands and thousands of packages), the USPS has NEVER lost a Priority Mail package, and has lost only two or three First Class packages. Please be patient. Your packages will arrive.
---
Big Fish, Big River Tenkara
by Ryan Jordan
(Bozeman, Montana)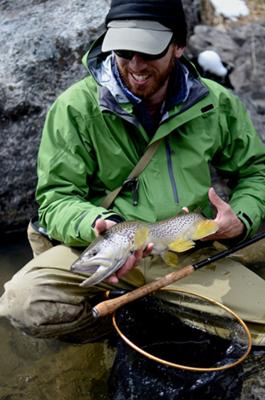 Madison River Brown
Chris --

First and foremost, thanks for the all the time you spend on your website. I find it to be an invaluable resource about the state of tenkara.

Second, I'm pleading with you to help me reverse the myth that tenkara is an inappropriate methodology for fishing big rivers for big trout.

Out here in MT, we are catching trout regularly to 24" on rivers like the Madison, Yellowstone, and Missouri. Bigger ones are getting away, but we are figuring it out. The Tenkara USA Amago, in particular, has opened the door to the application of tenkara fishing on bigger waters, because of its ability (backbone and length) to divert the energy of a running trout appropriate by steering the run and/or capitalizing on existing current for a fish running upriver. On smaller streams, we use the Hane, which has a strong backbone for fighting big fish. The Hane is particularly suited for big browns on the small spring creeks here. (In those cases, get your running shoes on.)

Next week I'll be crafting a story to be published at my website about the applicability of tenkara for big fish in big rivers. I'm also working on a technique video that shows fish fighting and landing techniques for big trout with strong currents.

There's a neat photo of Daniel with a nice big brown caught on the Madison last week using the Amago in my Flickr album here: http://www.flickr.com/photos/bigskyry/sets/72157626427669605/

Feel free to use any of those photos on your site.

Looking forward to seeing you in West Yellowstone in August.

Take care,
Ryan Jordan
http://ryanjordan.com
Return to Your Tenkara Stories.
---
"The bitterness of poor quality remains long after the sweetness of low price is forgotten" - Benjamin Franklin
"Be sure in casting, that your fly fall first into the water, for if the line fall first, it scares or frightens the fish..." -
Col. Robert Venables 1662
As age slows my pace, I will become more like the heron.

---
Warning:
The hooks are sharp.
The coffee's hot.
The fish are slippery when wet.
Beware of the Dogma

---