Best Fish I Ever Caught
by Jimi
(MO)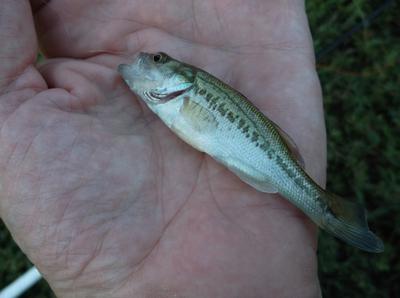 It was fun tying a size #32 Kebari but it was even more fun fishing with it. Tonight after I tied the smallest fly I have ever tied I headed out to my local lake to give it a fish. Armed with my Kiyotaki rod and the fly on some size 7X tippet and a very short line I trolled the banks looking for a batch of those baby fish we usually ignore. It took about 5 minutes to find a small school of these little guys. I picked one out and slowly lowered my tiny fly towards him. The fish took the fly immediately but I yanked the hook out of his mouth. These are not bass. Second try he was hesitant but in a quick lick the little guy gulped down the 32 like it was dinner. I set the hook and lifted the squirrely little brat from the water.

He swallowed the fly which was a bummer only because I wanted a shot of my tiny fly on the lip of my new found trophy. I snapped a quick photo and took another one as I released the beast unharmed to fight another day.

I have caught plenty of fish and many different species but I have to say this has to be the proudest I have ever been of any fish I ever caught, even my first brown. Thanks for the tiny hooks Chris, you made MY day!
Return to Your Tenkara Stories.
---
"The bitterness of poor quality remains long after the sweetness of low price is forgotten" - Benjamin Franklin
"Be sure in casting, that your fly fall first into the water, for if the line fall first, it scares or frightens the fish..." -
Col. Robert Venables 1662
As age slows my pace, I will become more like the heron.

---
Warning:
The hooks are sharp.
The coffee's hot.
The fish are slippery when wet.
Beware of the Dogma

---