Best Aussie Bass
by Dean Price
(Murwillumbah NSW Australia)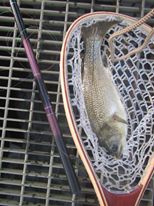 Kiyose 53 and Australian Bass
I was fishing the local weir a few weeks back catching a few smallish fish (a kind of long sardine best describes them) that I target occasionally which the locals call a slimey. They're a challenge to catch with such a small mouth and I enjoy the quick take when they attack the fly. At the weir I always use a Daiwa 53m keiryu rod as the length is perfect to fish over the concrete spillway. I also use the same keeper kebari fly as this has been a very consistent fly and the only one that seems to work in a color of tan with a touch of red ribbing.

Later in the afternoon the local bass started to feed and I had one eat the size 12 kebari and as the rod bent down to the max I knew this was a going to be a struggle. After a 5 minute battle of walking up and down the weir trying to control the sudden directional changes I felt the fish tire and pulled it towards the ramp at the end of the weir. It then went nuts again when it saw me before tiring for the final landing submission. I took a quick photo which actually didn't do the size of the fish justice - which didn't worry me as I was keen to return it quickly as it put up a long fight. It was easy my best bass ever in 15 years of fishing for them.

I caught another one that afternoon that the local kids helped me land which was quite a bit smaller and still a decent fish.

Every winter Australian bass (Macquaria novemaculeata) start to spawn in rivers from the fresh water to the salt water. They are very easy to catch at this time and are usually under the protection of a closed season around this period.
Return to Your Tenkara Stories.
---
"The bitterness of poor quality remains long after the sweetness of low price is forgotten" - Benjamin Franklin
"Be sure in casting, that your fly fall first into the water, for if the line fall first, it scares or frightens the fish..." -
Col. Robert Venables 1662
As age slows my pace, I will become more like the heron.

---
Warning:
The hooks are sharp.
The coffee's hot.
The fish are slippery when wet.
Beware of the Dogma

---