Back Home With Dinner
by Alan Luecke
(Kansas City, MO)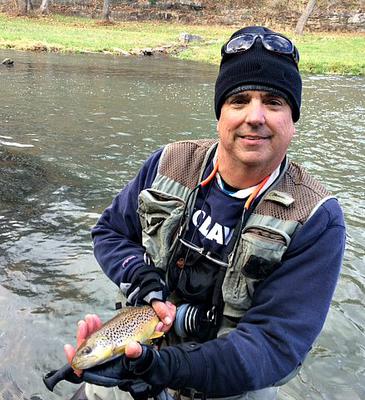 Chris H. with big brown
After our day chasing wild trout on a wild stream at Crane Creek Chris H. and I stopped at Capp's Creek Conservation Area on our way home. It's about eight miles west of Monett, MO ( Crane is 18 miles east) and consists of a developed park area around a spring fed mill pond with two miles of stocked natural water below that.

We started down in the woods with the creek looking very much like Crane with high, cloudy but fishable water. There was basically no action. Eventually I hooked a nice rainbow, 12+, on an overhand worm but it flipped off on a jump. A little later the sun came out, I switched to a white killer bugger and caught a 12inch spawning male rainbow

We finished our time at Capp's Creek wading in below the dam and casting into the white water. I caught a 10 inch rainbow (and a stoneroller!) on a UKB. Chris, who had been skunked all morning, caught the fish of the day on his last cast, a very nice 15 inch brown on a clouser.

Back in Kansas City the winter trout season had opened at James A. Reed conservation area. I went out on Sunday, along with ALOT of other people and caught ten fish in about an hour and a half and took my limit home for supper. My setup at the lake was the Kiyose 53M with a rod's worth of line on it and a Black Killer Bugger with a red bead head. It was very windy. To avoid having the wind pull the line out of the water I would sink the entire level line and pulse it back in with the rod tip just above the water.

The weekend had started with the simple idea, let's go to Crane Creek. It ended up being a nice tour of winter trout in Missouri. Do the easy many equal the hard few? I don't know, better keep fishing.
Return to Your Tenkara Stories.
---
"The bitterness of poor quality remains long after the sweetness of low price is forgotten" - Benjamin Franklin
"Be sure in casting, that your fly fall first into the water, for if the line fall first, it scares or frightens the fish..." -
Col. Robert Venables 1662
As age slows my pace, I will become more like the heron.

---
Warning:
The hooks are sharp.
The coffee's hot.
The fish are slippery when wet.
Beware of the Dogma

---