Another Shoreline
by Alan Luecke
(Kansas City, MO)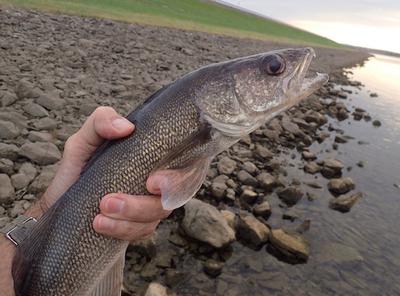 First Walleye
I know a lot of places to fish in the metro area, but it's always exciting to find a good one. I didn't think Hillsdale Reservoir was a good one.

Hillsdale is a small to medium sized Corps of Engineers lake about an hour southwest of the city. It's often muddy and the usual bass, catfish and crappie fishing is often reported as poor. Regardless, a boat is considered essential--not exactly tenkara country.

Earlier this summer my friend Paul T. an avid (fanatic), western flyfisher started talking about the Hillsdale dam; lots of fish, open casting and easy access. What really caught my ear was the talk of plentiful Freshwater Drum. I'd never caught a drum and then there was this Steamer Challenge thing going on. Time for a new project.

Hillsdale has a mile long earthen dam running east and west with the lake on the north. The waterline is lined with rock in the usual fashion. Some of it is large rip rap that requires climbing but most is small to medium stones that can be "walked" but not quickly. I keep my staff in hand. The important thing here is that the shore line descends very gradually rather than dropping immediately into deep water. This sunny, rocky shelf provides lots of food and cover for shallow water species and easy access for the deep water fish. Twenty feet from shore the water is still about four feet deep.

I've been out five or six times since June. I got the drum right away which brought me back several times since then Wind, temp and pressure can conspire however to shut things down. It's a good place but not a perfect place and sometimes the fish don't bite.

Yesterday afternoon I had a bit of everything. The weather called for showers in advance of a front. My goal was to be there at sundown before the cold front showed up. I left early to avoid traffic and ended up fishing for two hours in light rain and catching one bluegill.
I was about to leave but saw clearing in the west coming fast so I stayed to watch a beautiful sunset. At five till 6:00 the fish lit up. In the next forty minutes I caught ten fish, six species, two for the challenge and a new life lister. After some bluegill and two small drum the event of the day was a 16"-18" walleye, my first. Normally a deep water fish it never occurred to me that I'd get one in two feet of water. The other fish were a Green Sunfish, a little bass and a White Bass which I'd been chasing all summer.

The setup for all this was my GM 39 Special with a size 16 jig hook White Killer Bugger.

A rocky shore is a rocky shore whether it's in Florida, Mexico or a common local lake. The beach is closer than you think.

Return to Your Tenkara Stories.
---
"The bitterness of poor quality remains long after the sweetness of low price is forgotten" - Benjamin Franklin
"Be sure in casting, that your fly fall first into the water, for if the line fall first, it scares or frightens the fish..." -
Col. Robert Venables 1662
As age slows my pace, I will become more like the heron.

---
Warning:
The hooks are sharp.
The coffee's hot.
The fish are slippery when wet.
Beware of the Dogma

---